Shock Hosting – 50% OFF Recurring Discount on All Services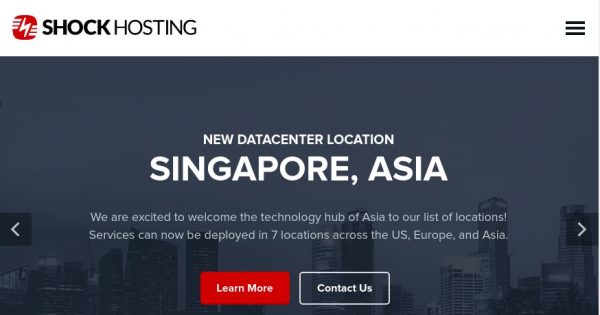 Shock Hosting excited to announce their new datacenter location: Singapore! They are offering 50% Off on Shared Hosting, Reseller Hosting, HDD VPS, SSD VPS and Dedicated Servers from $2.99 USD/month with promo code.
Singapore was selected as the primary location for our Asia-Pacific expansion due to the country being a major hub for interconnection and subsea cables in Asia.  The datacenter is located in the central datacenter zone of Singapore with direct dark fiber connections to Global Switch and Equinix, allowing for access to 500+ network operators.  The facility was built according to TIA-942 design standards which was assessed and rated as a Tier 3 datacenter to ensure the best possible uptime.
Shock Hosting Promo Codes
50% Off Recurring Discount on all services
Checkout their service here:
About Shock Hosting
If you've ever had to search for a web hosting provider then you know how challenging it can be. There seems to be a never ending amount of different providers, options, features, plans, and prices to choose from.

So how do you decide?

We have been on a mission to simplify that decision making process by only providing high quality hosting at an affordable price to every client, no matter their size or challenge.

Without successful clients, we wouldn't be around, which is what pushes us to provide the best service possible without compromising on quality or features.

"Your success is our success."