Spartan Host – 40% OFF Coupon KVM VPS + 20Gb/s DDoS Protection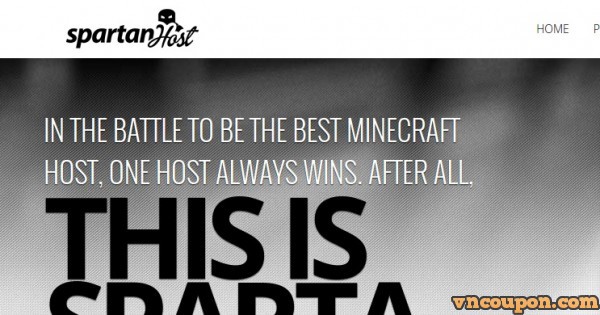 Spartan Host is a dedicated server, VPS and colocation provider with the majority of its hosting operations based in Seattle, Washington and Dallas, Texas.
Note: Seattle E5 KVM VPSs are back in stock! Now with 2.6GHz CPU and NVMe SSDs, same price of $4/gb with coupon KVM40!
VPS Features
Top class facility
Virtualizor Control Panel
RAID 10 Samsung SSD and Western Digital Hard Drive Storage
20Gb/s TCP DDoS Protection with a burst of 40Gb/s by CNServers
KVM Virtualisation
DDoS Protected SSD E5 KVM VPS
512MB SEABKVM
512MB DDR3 ECC RAM
1 CPU vCore (3.0 GHz E5-2690v2)
10GB Raid NVMe SSD Storage
1TB bandwidth @ 1Gb/s (speed limited to 5Mb/s after allocation used)
1 IPv4, /64 IPv6
20Gb/s TCP DDoS Protection, 200Gb/s upgrade available
Seattle, Washington, US
Virtualizor Control Panel
Unmanaged

$2.5.00 USD

 Monthly
1024MB SEABKVM
1024MB DDR3 ECC RAM
2 CPU vCores (3.0 GHz E5-2690v2)
15GB Raid NVMe SSD Storage
2TB bandwidth @ 1Gb/s (speed limited to 5Mb/s after allocation used)
1 IPv4, /64 IPv6
20Gb/s TCP DDoS Protection, 200Gb/s upgrade available
Seattle, Washington, US
Virtualizor Control Panel
Unmanaged

$5.00 USD

 Monthly
$4.00 per month with coupon KVM20
=> All SSD E5 KVM plans: Click Here
DDoS Protected SSD E3 KVM VPS 
SSD 256MB KVM
256MB

 RAM

1 Core

 CPU

1

 IPv4

10GB Raid 10 SSD

 Storage

1000GB

 Bandwidth

1Gb/s

 Port

20Gb/s TCP

 DDoS Protection

Seattle, Washington

 Location

Virtualizor

 Control Panel

No

 Managed
$3.00 USD per month
$2.40 per month with coupon KVM20
SSD 512MB KVM
512MB

 RAM

2 Cores

 CPU

1

 IPv4

12GB Raid 10 SSD

 Storage

1500GB

 Bandwidth

1Gb/s

 Port

20Gb/s TCP

 DDoS Protection

Seattle, Washington

 Location

Virtualizor

 Control Panel

No

 Managed
$6.00 per month
$3.60 per month with coupon

KVM40
=> All SSD E3 KVM plans: Click Here
DDoS Protected HDD E3 KVM VPS
256MB SEAHKVM
256MB

 RAM

1 Core

 CPU

1

 IPv4

20GB Raid 10 HDD

 Storage

1000GB

 Bandwidth

1Gb/s

 Port

20Gb/s TCP

 DDoS Protection

Seattle, Washington

 Location

Virtualizor

 Control Panel

No

 Managed
$2.50 USD per month
$2.00 per month with coupon KVM20
512MB SEAHKVM
512MB

 RAM

1 Core

 CPU

1

 IPv4

25GB Raid 10 HDD

 Storage

1500GB

 Bandwidth

1Gb/s

 Port

20Gb/s TCP

 DDoS Protection

Seattle, Washington

 Location

Virtualizor

 Control Panel

No

 Managed
$5.00 USD per month
$3.00 per month with coupon KVM40
1024MB SEAHKVM
1024MB

 RAM

2 Cores

 CPU

1

 IPv4

50GB Raid 10 HDD

 Storage

2000GB

 Bandwidth

1Gb/s

 Port

20Gb/s TCP

 DDoS Protection

Seattle, Washington

 Location

Virtualizor

 Control Panel

No

 Managed
$10.00 USD per month
$6.00 per month with coupon KVM40
=> All HDD E3 KVM Plans: Click Here
All OS options can be seen at checkout, any special requests can be sent in via ticket
Dallas Storage VPS Plans
100GB KVM
256MB

 RAM

1 Core

 CPU

1

 IPv4

/64

 IPv6

100GB Raid 10 HDD

 Storage

500GB

 Bandwidth

1Gb/s

 Port

10Gb/s

 DDoS Protection

Dallas, Texas

 Location

Virtualizor

 Control Panel

No

 Managed
$2.00 USD per month
$20.00 USD per year
250GB KVM
512MB

 RAM

1 Core

 CPU

1

 IPv4

/64

 IPv6

250GB Raid 10 HDD

 Storage

1000GB

 Bandwidth

1Gb/s

 Port

10Gb/s

 DDoS Protection

Dallas, Texas

 Location

Virtualizor

 Control Panel

No

 Managed
$5.00 USD per month
$3.00 per month with coupon KVM40
=> All Dallas Storage VPS Plans: Click Here
Payment Information
They accept    & 
Network Information