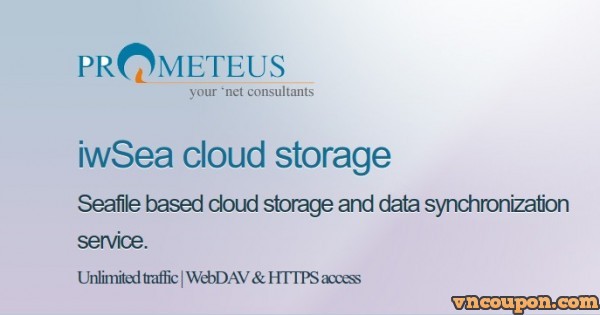 What is iwSea?
iwSea is a cloud storage and data synchronization service based upon the Seafile platform. iwSea lets you store your files and data on our central servers and synchronize them with laptops, desktops, smartphones, and tablets.
iwSea Features
Fast synchronization.
Client available for Windows, Mac, Linux, Android, and iOS.
Client side encryption.
Share files and directories.
Webdav support.
Native IPv6 networks.
iwSea Cloud Storage Plans
There are 3 plans with different storage size: Small with 200GB,Medium with 400GB and Large with 900GB. Each plan include unmetered transfer bandwidth.

Their Promotion
The prices for the next 30 days will be:
+ Small (200GB) €24/year => Order Now
+ Medium (400GB) €39/year => Order Now
+ Large (900GB) €69/year => Order Now

Try iwSea Cloud for 1 year
If somebody (with an active service with us) want to try the service They have setup a sample plans (with only 10G of space) with a coupon code ( tryiwsea ) which allow you to try the service for one year.
Link order for special plan!
Note: The coupon code is limited to 100 usage
iwSea Coupon Code
10% OFF iwSea Services