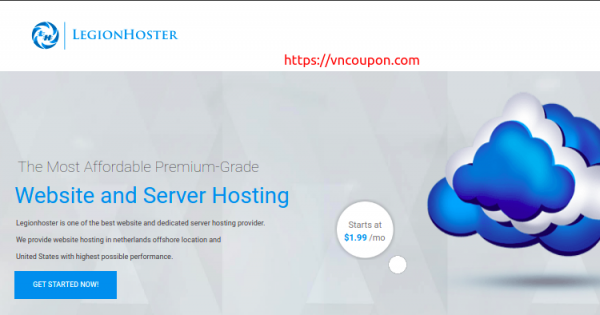 Legionhoster.com offering 15% off KVM VPS in US, CA, RU, Romania, Moldova, FR + 500 Gbps DDoS Protection. Use coupon code  LEGION15OFF to get 15% off if you order service for a year. You must have an active product/service to use this code
About Legionhoster.com
Legionhoster.com is known since 2014 for their quality services and awesome support. Our main goal is to eliminate expensive prices and help small businesses grow.

Our end goal is to provide the best quality servers at the lowest possible rate with great customer support. Try it !!! You won't Regret It !!!

Currently, we have Website Hosting available in two locations USA and Netherlands.
USA / Canada VPS Plans
=> [ Order Link ]
| Plans | Cores | HDD/SSD | RAM | Swap RAM | Bandwidth | Price |
| --- | --- | --- | --- | --- | --- | --- |
| Basic Plan 1 | 1 core | 25 GB SSD | 1 Gb RAM | 256 Mb Swap RAM | 1 TB Bandwidth | 6.99$ |
| Basic Plan 2 | 1 core | 30 GB SSD | 2 GB RAM | 256 MB Swap RAM | 1.5 TB Bandwidth | 8.99$ |
| Basic Plan 3 | 1 core | 40 GB SSD | 3 GB RAM | 512 MB Swap RAM | Unlimited Bandwidth | 10.99$ |
| Basic Plan 4 | 1 core | 50 GB SSD | 4 GB RAM | 512 MB Swap RAM | Unlimited Bandwidth | 12.99$ |
| Standard Plan 1 | 2 core | 60 GB SSD | 2 GB RAM | 512 MB Swap RAM | Unlimited Bandwidth | 15.99$ |
| Standard Plan 2 | 2 core | 70 GB SSD | 4 GB RAM | 512 MB Swap RAM | Unlimited Bandwidth | 19.99$ |
| Standard Plan 3 | 2 core | 80 GB SSD | 4 GB RAM | 512 MB Swap RAM | Unlimited Bandwidth | 25.99$ |
| Standard Plan 4 | 2 core | 100 GB SSD | 8 GB RAM | 512 MB Swap RAM | Unlimited Bandwidth | $29.99 |
Russia/Romania/Moldova VPS Plans
=> [ Order Link ]
| Plans | Cores | HDD/SSD | RAM | Bandwidth | Price |
| --- | --- | --- | --- | --- | --- |
| Plan 1 | 1 core | 20 GB SSD | 1 GB RAM | Unlimited Bandwidth | $9.99 |
| Plan 2 | 1 core | 40 GB SSD | 2 GB RAM | Unlimited Bandwidth | $15.99 |
| Plan 3 | 2 core | 50 GB SSD | 2 GB RAM | Unlimited Bandwidth | $19.99 |
| Plan 4 | 2 core | 60 GB SSD | 4 GB RAM | Unlimited Bandwidth | $25.99 |
| Plan 5 | 4 core | 80 GB SSD | 4 GB RAM | Unlimited Bandwidth | $39.99 |
| Plan 6 | 4 core | 100 GB SSD | 8 GB RAM | Unlimited Bandwidth | $49.99 |
| Plan 7 | 4 core | 150 GB SSD | 16 GB RAM | Unlimited Bandwidth | $59.99 |
| Plan 8 | 4 core | 200 GB SSD | 24 GB RAM | Unlimited Bandwidth | $69.99 |
Payment Methods
PayPal
BTC / LTC / ETH / XRP and many more
Perfect Money
Russian Credit/Debit Card
Indian Credit/Debit Cards + Net-banking
WebMoney
South Africa Credit Card
South Korea Credit Card + Net-banking
Boleto / SOFORT / Payza / Alipay
European Bank Transfer
QiWi / Unionpay / CashU
Yandex.Money
Network Information
Contact theme