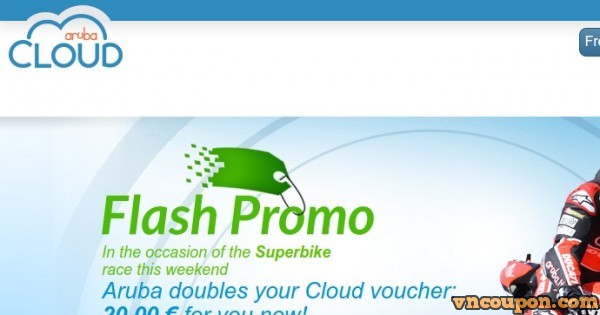 Aruba Cloud is the Cloud brand for Aruba S.p.A. in the European market.
20 € free credit (Expired)
Get a €2 voucher to spend on Aruba IaaS platforms over 60 days and take the chance to explore and test our products and services 100% free of charge.
No commitment
Thanks to this voucher, you can activate any cloud server or service and test them directly in a live environment. Reaching the end of your trial, you can upgrade to a paid account within 30 days.
Quick and Easy
Our cloud platforms are designed to make development easy and scalable, based on your business needs. Through your control panel, explore and test all features as well as get some help from our experts.
Voucher Request
https://www.arubacloud.com/free-trial-flashpromo.aspx
Required a 
1 Year of our Linux Cloud VPS Small at the old price of 1 EUR / month
(equivalent to 1.1 US dollar (+VAT) / month)
1 vCPU
1 GB RAM
20 GB SSD Storage
2 TB/month data transfer
Operating system: Linux – Virtualization powered by VMware technology.
You can choose to activate it in one of our 8 Data Centers available in different European countries (Italy, Czech Republic, France, Germany, United Kingdom, Poland).
The promo is limited to the first 10 users who will reply to this thread asking for a voucher, so hurry up and don't miss the chance to be like Tom Cruise… or even better! 
This is just the first preview of many limited offes we are going to reserve for LET users in the near future, so… stay tuned!
VPS & Cloud Server
Their Cloud VPS offer features preconfigured machines in four sizes, with elastic resources based on VMware technology and including onboard SSD storage.
Starting from € 1.00/month, Aruba Cloud VPS combines high performances and affordability, considering these servers are located within a cloud infrastructure and, alike all our offers, technical support 24 hours/day by email and phone is included.
VPS & Cloud Plan:
Small Plan
Linux
1 Core CPU
1 GB RAM
20 GB SSD Storage
2 TB/month transfer
wmvare powered
1,00 €/month
Medium Plan
Linux/Windows
1 Core CPU
2 GB RAM
40 GB SSD Storage
5 TB/month transfer
wmvare powered
6,50 €/month
Network Information