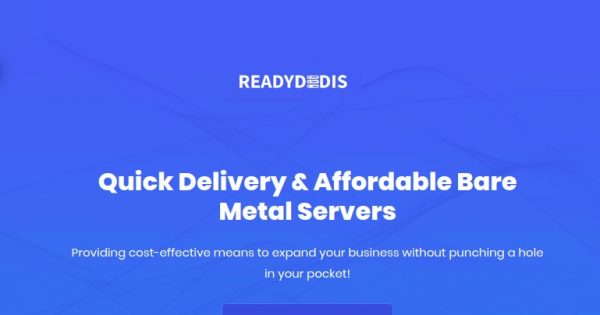 ReadyDedis, LLC offers Affordable KVM SSD VPS in 3 US Location: New York City, Los Angeles, Seattle.
ReadyDedis is a USA company over a decade of experience in providing and building high-performance infrastructure to provide the best possible experience for your online business. they offer a range of fully customization Baremetal Servers, Cloud Servers and also Colocation Services. All maintained by our seasoned technical support team who work 24x7x365 with best response and resolution times in the industry.
Cloud KVM VPS Offers
Cloud 1GB – $4/mo
Cloud 2GB – $7/mo
Cloud 3GB – $10/mo
Cloud 1GB NVMe
1 vCore(s)
1GB RAM
25GB NVMe RAID-10
1 IPv4
Unmetered Bandwidth @ 1Gbps
Order Link (Falkenstein, DE)
They accept PayPal, Credit / Debit Card, Bitcoin, Alipay payments
All orders are delivered within 24-72 hours
All the servers come with 1 hour managed support per month.
Looking Glass
Los Angeles: http://lg.lax01.readydedis.com/
New York: http://lg.nyc01.readydedis.com/
Seattle: http://lg.sea01.readydedis.com/
Atlanta: https://lg.atl01.readydedis.com/
Falkenstein, DE: https://lg.ger01.readydedis.com/
Jacksonville, US: http://lg.jax01.readydedis.com/
Mumbai, IN: http://lg.mum01.readydedis.com/