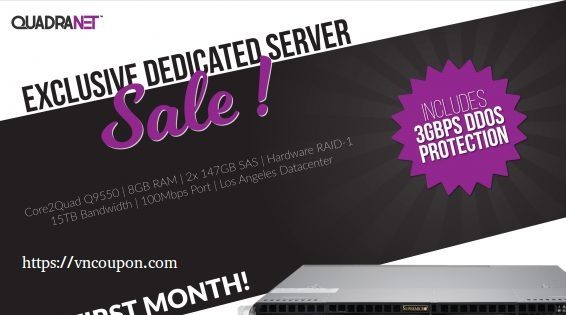 QuadraNet, Inc. was originally formed in 2001 as a telecommunications provider in Los Angeles and the surrounding areas. As their client base grew, They adapted to the evolving industries and expanded their service offerings over time to encompass a larger variety of Internet-based products and services.
QuadraNet sent in an offer for their Intel Xeon X3220 Dedicated Server in Los Angeles.
Exclusive Dedicated Server Sale: $20 First Month!
For a limited time only, we are providing the following special:
Intel Core2Quad Q9550 Quad Core – 2.83Ghz, 12M Cache, 1333FSB
8GB RAM
2x 147GB SAS 15,000RPM Drives
Hardware RAID-1 via Adaptec 2405
15TB Monthly Public Transfer
100Mbps Port
3Gbps VEST DDoS Protection
Los Angeles Datacenter
$20 First Month, just $39/month thereafter!
You can also choose from the following, optional upgrades:
1Gbps Network Port Upgrade +$5/month
Upgrade to Asian Optimized Network for +$5/Month
Xeon Dedicated Server

Intel Xeon X3220 Quad Core – 2.4Ghz, 8M Cache, 1066FSB
8GB RAM
500GB SATA 7,200RPM HDD
Dual Gigabit NICs
1U Supermicro Server – 2x HDD Bays
KVM over IP, Remote Power Control, and more
10TB Monthly Public Transfer
Unlimited Monthly Private Transfer
100 Mbps Public/Private Network Uplinks
/29 IPv4 Allocation – 5 Usable IPs
/64 IPv6 Allocation – Millions of IPs
Private VLAN
Remote Reboot
Available in: Los Angeles
INCLUDES: Noction Intelligent Routing Platform Enabled Network
INCLUDES: 3Gbps Detect & Mitigate QuadraNet VEST DDoS Protection
$39 per month, $0 setup
They accept payments using Credit Cards, PayPal, Checks, and Wire Payments.
Available Upgrade
+ Upgrade to 1TB HDD for + $5/Month (replaces the 500GB HDD)
+ Upgrade to Asian Optimized Network for +$5/Month
Test IP and Download Files
+ Test IPv4: 198.55.111.5
+ Test IPv4 Asia-Optimized: 204.152.218.25
+ Test IPv6: 2607:fcd0:0:a::2