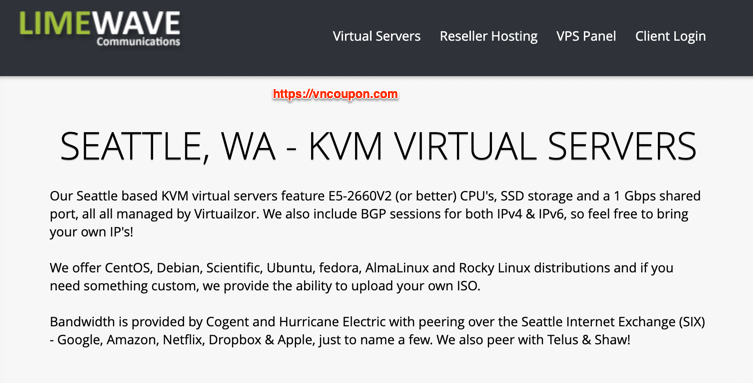 Limewave Communications Inc is a Canadian Internet Presence Provider (IPP). They strive to balance performance and value, offering a feature packed service with an affordable price.
They're currently running a 30% off with double RAM and data transfer. They're also including in a free 10 Gbps port upgrade. Submit your order with the discount code, then submit a sales ticket asking for the "DOUBLE UP" promo upgrade. It's that easy!
All servers include:
Virtualizor Control Panel
PTR (rDNS) records
gigE port (shared)
CentOS / Debian / Scientific / Ubuntu / Fedora / Rocky Linux available
Custom ISO's (upload your own)
Unmanaged service (network support only)
BGP Session (IPv4 & IPv6)
Special VPS Offers
SEAKVM1GB
SEAKVM2GB
SEAKVM4GB
SEAKVM8GB
SEAKVM16GB
Payment via PayPal and Visa/MC via Stripe.
Network Information
Location: Seattle, WA, U.S.A. (Intergate West)
Test IP: 104.224.52.1
Test File: http://speedtest.seattle.wa.limewave.net/1000MB.test
Ping/Traceroute: http://speedtest.seattle.wa.limewave.net/
Looking Glass: http://bgp.limewave.net/lg/