pCloud Black Friday 2020 Deals – 75% OFF Lifetime Cloud Storage from $122.5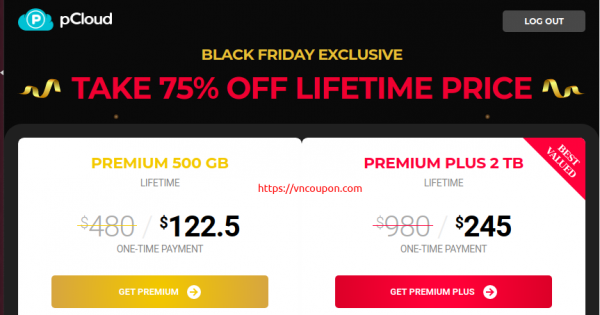 It's Black Friday 2020, and that means great deals everywhere, but especially at pCloud. They want to use this opportunity to remind you that they are committed to being there for you for life, and as such are offering 75% off our lifetime plans.
No fees, no subscriptions, just one single payment and your storage needs are met for life. If that sounds good, check out website for all the details and what pCloud can do for you.
=> Promo Link
PREMIUM 500 GB LIFETIME
500GB STORAGE
500GB SHARED LINK TRAFFIC
SHARED LINK BRANDING
30 DAYS TRASH HISTORY
$480/$122.5 ONE-TIME PAYMENT
BEST VALUED PREMIUM PLUS 2 TB LIFETIME
2TB STORAGE
2TB SHARED LINK TRAFFIC
SHARED LINK BRANDING
30 DAYS TRASH HISTORY
$980/$245 ONE-TIME PAYMENT