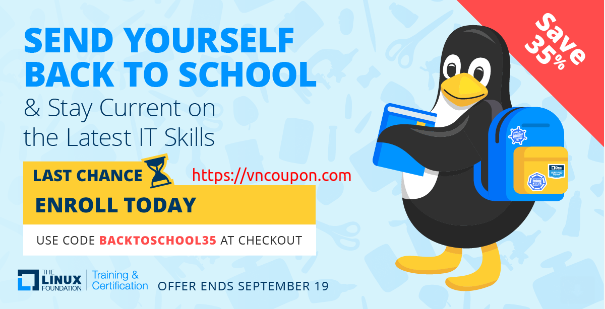 Save 35% and Take Yourself Back to School Online Courses, Certifications, Bundles & Bootcamps
September Promo Details:
35% off most trainings and certifications at the Linux Foundation
=> [ Promo Link ]
Offer from Sept 12 – 19, 2023.
Use code BACKTOSCHOOL35 at checkout.
This promotion is available to anyone who purchases the above-mentioned products with an applicable coupon between September 12, 2023, and September 19, 2023, 23:59 UTC. It is not valid for any other combination of courses or certifications. Promotional price limited to individual purchases ONLY. Offer not valid with any other discount combinations. Offer does not include instructor-led courses, THRIVE-ONE subscriptions or any FinOps courses and certifications.