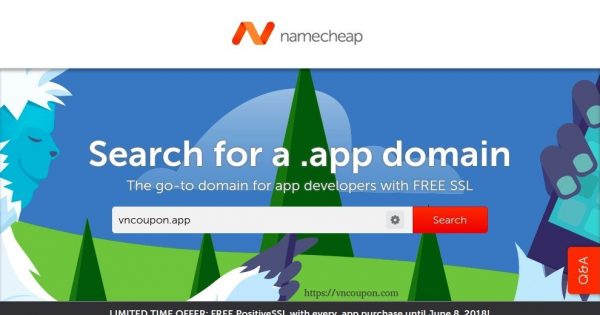 Namecheap – LIMITED TIME OFFER: FREE PositiveSSL with every .app purchase until June 8, 2018!
Get your .app domain with free SSL today!
There's been quite a buzz lately around the launch of the .app domain. And rightfully so, as it's set to become the industry standard for application developers. As a domain name. .app is distinctive and easy to remember. That makes .app the ideal choice for app designers, industry professionals, and software enthusiasts alike.
As the registry for .app, Google stipulates that HTTPS is a requirement for all .app sites. This means you will need to have an SSL certificate alongside your domain. Your SSL Certificate is an added layer of security which protects you, and all visitors to your website.
Namecheap will provide a free SSL Certificate with every .app purchase. You will receive an exclusive coupon by email within three business days of your .app purchase to claim your free one-year PositiveSSL Certificate, normally priced at $8.88.
Namecheap are also giving you free WhoisGuard and 2 free months of Private Email with each domain purchased. WhoisGuard means the personal information you give for your domain registration will be made invisible on the Whois database, and Private Email is perfect for managing email accounts you set up for your new site.
| Duration | 1 Year | 2 Years | 3 Years | 4 Years | 5+ Years |
| --- | --- | --- | --- | --- | --- |
| | $14.98 | $14.98 | $14.98 | $14.98 | $14.98 |