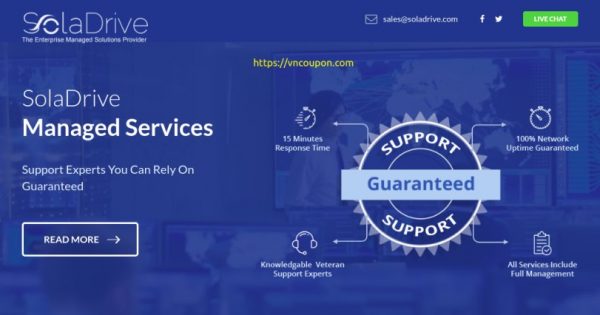 About SolaDrive
SolaDrive has been around since 2009 providing quality Managed VPS, Dedicated Servers and advanced solutions. We strive for 15-minute response times or better, and with truly redundant networks and 100% uptime SLA we able to offer a very reliable service. All of our VPS come fully managed as well, no more worrying about how to setup and manage your server. Leave that to us!
Today, they offer 25% Off For Life on New Fully Managed Ryzen 9 VPS, please use coupon code: 25WHT at checkout
Fully Managed Ryzen VPS Features
VPS Locations: Los Angeles, CA – New York City – Coventry, UK – Singapore
32 Core Intel Xeon 4210 Servers or Ryzen 9 5900x, NVMe 4.0 SSD Raid-10 (7,000MB/s)
Free VPS Migration
Free Backups made 3x Weekly to offsite server
Free Script installation and configuration
Free CentOS Panel Pro
24/7 Fully Managed by Experienced US Technicians
Instant VPS Activation After Payment
15-Minute Response Times
99.9% Server Uptime Guarantee
Free VPS Migration
Feature packed SolusVM Control Panel
30 Day Money Back Guarantee!
Fully Managed Ryzen VPS Plans
Server Spec: 
– Newest Dual Intel Xeon 4210 Processors (20/40 x 3.2GHz Max Cores/Threads) or AMD Ryzen 9 5900x
– Up to 256GB DDR4 ECC Ram
– Supermicro Chassis, Motherboard, and Power Supplies
– Dual redundant power supplies
– True A + B power meaning an entire power grid for "A" could go out and server would still be operational on grid "B"
– 8 x 1TB WD NVMe 4.0 SSD's (Speeds up to 7000 MB/s)
– Raid-10 NVMe Storage
– 1Gbps Port Speeds
SD-2
2 CPU @ 3.0Ghz+
2GB Dedicated RAM
50GB Raid-10 NVMe SSD Storage
2TB Premium Bandwidth
1 Dedicated IP
Fully Managed VPS
Starting from $35.00 USD Monthly
SD-4
4 CPU @ 3.0Ghz+
4GB Dedicated RAM
100GB Raid-10 NVMe SSD Storage
4TB Premium Bandwidth
1 Dedicated IP
Fully Managed VPS
Starting from $55.00 USD Monthly
SD-6
6 CPU @ 3.0Ghz+
6GB Dedicated RAM
150GB Raid-10 NVMe SSD Storage
6TB Premium Bandwidth
1 Dedicated IP
Fully Managed VPS
Starting from $75.00 USD Monthly
SD-8
8 CPU @ 3.0Ghz+
8GB Dedicated RAM
200GB Raid-10 NVMe SSD Storage
8TB Premium Bandwidth
2 Dedicated IP
Fully Managed VPS
Starting from $95.00 USD Monthly
SD-12
12 CPU @ 3.0Ghz+
16GB Dedicated RAM
500GB Raid-10 NVMe SSD Storage
12TB Premium Bandwidth
2 Dedicated IP
Fully Managed VPS
Starting from $165.00 USD Monthly
SD-16
16 CPU @ 3.0Ghz+
32GB Dedicated RAM
1000GB Raid-10 NVMe SSD Storage
16TB Premium Bandwidth
2 Dedicated IP
Fully Managed VPS
Starting from $275.00 USD Monthly
Payment Information
They accept
Network Information
Los Angeles, CA
New York City
Coventry, UK
Singapore