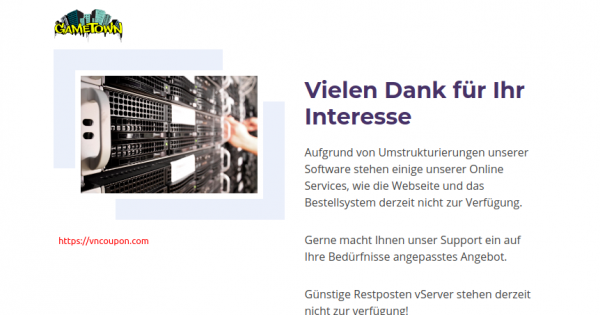 GameTown Projects is a company founded in 2013, which is characterized by personal advice and fast support. They have been offering server hosting for more than 7 years now and have experienced both good and bad times. Throughout the time, they were always available when it came to downtime or other infrastructure issues and stick to this approach to customer satisfaction.
To order the offers must be currently registered on https://panel.haendler.it. In the order system vServer can be ordered, which are delivered automatically and immediately after payment.
Note: Please search reviews before place an order
All offers are located in the Netherlands, which has been connected to Frankfurt since this month as well as directly to Frankfurt to keep the latency as low as possible.
Website: https://gt-host.de/
Client Area: https://panel.haendler.it/
Facebook: https://www.facebook.com/pg/gametownprojects/
KVM HDD VPS offers
KVM HDD vServer – 2 GB Ram
1 vCore
2 GB Ram
20 GB HDD
Only 2,28 € / month
KVM HDD vServer – 4 GB Ram
2 vCores
4 GB Ram
60 GB HDD
Only 3,18 € / month
KVM HDD vServer – 8 GB Ram
4 vCores
8 GB Ram
150 GB HDD
Only 5,06 € / month
KVM SSD VPS offers
KVM SSD vServer – 2 GB Ram
1 vCores
2 GB Ram
20 GB SSD
Only 2,47 € / month
KVM SSD vServer – 4 GB Ram
2 vCores
4 GB Ram
30 GB SSD
Only 3,45 € / month
KVM SSD vServer – 8 GB Ram
4 vCores
8 GB Ram
60 GB SSD
Only 5,50 € / month