First Root – Special KVM VPS with Recurring Discount from $20/Year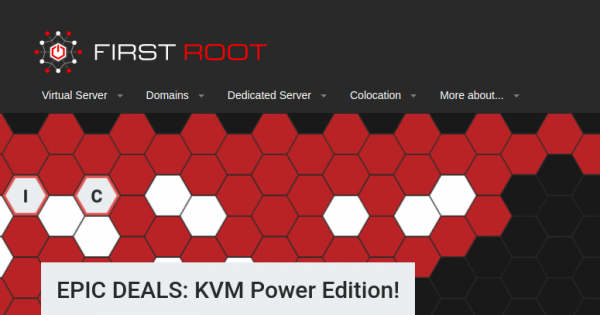 About First Root
First Root – Hosting-Solutions made in Germany since 2011.

Our vision at First Root is to offer the perfect product to satisfy all your requirements and back them with our outstanding customer support. Our support team consists of true technicians, no callcenter, no Level 1 to Level 3 support. If you have any problems, we are here to solve them fast.

Since 2011 we aim to provide perfect customer experiences. As a part of this, we own and operate all our equipment and IP addresses. Our Network Operations Center is located next to our datacenter so that our technicians can access all our equipment 24/7 in case any hardware problem arises.
First Root provide OpenVZ & KVM VPS Hosting, Dedicated Server, Domain and SSL Certificate.
Today, they offer High End KVM VPS with lifetime discount
KVM Power Edition Plans
KVM Power LET
1 shared CPU (CPU-Passthrough, Intel XEON Processor, Fair use)
512 MB ECC Ram
10 GB SSD
2 TB @ 1 Gbit/s
1 IPv4 address
/64 IPv6
F-Com Control Panel
20 EUR / year
KVM Power Light
1 shared CPU (CPU-Passthrough, Intel XEON Processor, Fair use)
1024 MB ECC Ram
40 GB SSD
5 TB @ 1 Gbit/s
1 IPv4 address
/64 IPv6
F-Com Control Panel
2.5 EUR / month or 28.80 EUR / year
KVM Power Start
2 shared CPU (CPU-Passthrough, Intel XEON Processor, Fair use)
2048 MB ECC Ram
80 GB SSD
5 TB @ 1 Gbit/s
1 IPv4 address
/64 IPv6
F-Com Control Panel
4 EUR / month or 43,20 EUR / year
More plans with discount here: https://www.first-root.com/server/vps/kvm-power-edition/

Payment Information
First Root is offering a 14 days Money-Back-Guarantee for new customers. They accept the payment methods below:
Wire transfer / bank transfer
SEPA direct debit (for EU customers)
PayPal
Creditcard (VISA, Mastercard, American Express)
Bitcoin NEW
Network Information
Looking Glass: http://lg.first-root.com