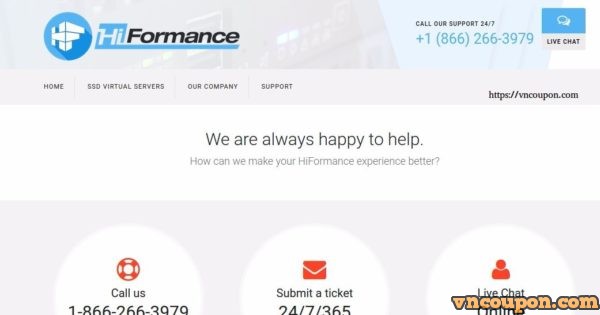 HiFormance very excited to be apart of your community and they have come today to offer an exclusive sneak peak.
Their focus is to provide high-end enterprise hosting & infrastructure at a fraction of the cost in geographically diverse locations all around the word. Their in-house experienced specialists are available 24/7 via Live Chat, Phone, & Ticket Support. Signup today and enhance your hosting experience with HiFormance!
They now accept Alipay and WeChat!
Why choose HiFormance?
24/7 Expert Support
Fully Featured Control Panel
Custom ISO/Templates
1 Hour Deployment
Redundant Infrastructure
KVM & OpenVZ
99.99% Uptime SLA
Bulk pricing discounts
Flexible pricing & configurations
24/7/365 On-site Technicians
OpenVZ Special Packages
Special Offer: Pre-pay 3-years to receive double CPU, memory, SSD or IP address!
Note: Just submit a ticket and include the resource you choose to be doubled.
Buffalo-VZ2020 (NEW + HOT)
OpenVZ
4 CPU
8GB Memory
40GB SSD
4TB BW
1Gbps Port
$1/Month!
Order Link
OpenVZ 4GB ( HOT)
2 vCores
4GB RAM
20GB Pure SSD
4TB Bandwidth
1Gbps Uplink
DDoS Protection
1 x IPv4 (IPv6 upon request)
OpenVZ (SolusVM)
Linux Only
$11.99/yr
Order Link
OpenVZ 2018 (NEW)
2 vCore
2GB Ram
20GB Pure SSD
2TB Bandwidth
1Gbps Port
1 x IP Address
OpenVZ — SolusVM Control Panel
Linux Only
Pre-pay 3-years to receive double CPU, memory, SSD or IP address!
$10/year
Order Link
2018 Q1 – OpenVZ #1
1 vCore
512MB Ram
5GB Pure SSD
2TB Bandwidth
1Gbps Port
1 x IP Address
OpenVZ — SolusVM Control Panel
**Pre-pay 3-years to get double CPU, memory, SSD or IP address!**
$7.50/Year
Order Now
2018 Q2 – OpenVZ #2
1 vCore
1GB Ram
10GB Pure SSD
2TB Bandwidth
1Gbps Port
1 x IP Address
OpenVZ — SolusVM Control Panel
**Pre-pay 3-years to get double CPU, memory, SSD or IP address!**
$15/Year
Order Now
2018 Q3 – OpenVZ #3
2 vCore
2GB Ram
20GB Pure SSD
4TB Bandwidth
1Gbps Port
1 x IP Address
OpenVZ — SolusVM Control Panel
**Pre-pay 3-years to get double CPU, memory, SSD or IP address!**
$30/Year
Order Now
2018 Q4 – OpenVZ #4
4 vCore
4GB Ram
50GB Pure SSD
6TB Bandwidth
1Gbps Port
2 x IP Address
OpenVZ — SolusVM Control Panel
**Pre-pay 3-years to get double CPU, memory, SSD or IP address!**
$60/Year
Order Now
2018 Q5 – OpenVZ #5
8 vCore
8GB Ram
80GB Pure SSD
10TB Bandwidth
1Gbps Port
5 x IP Address
OpenVZ — SolusVM Control Panel
**Pre-pay 3-years to get double CPU, memory, SSD or IP address!**
$120/Year
Order Now
December OpenVZ 1
1 Core
0.5GB Ram
60GB SATA
2TB Bandwidth
1Gbps
1 IP Address
OpenVZ
$9.99/year

** DOUBLE CPU + DISK + MEMORY ON 3 YEAR PREPAY
Order Link
December OpenVZ 2
2 Core
1GB Ram
120GB SATA
2TB Bandwidth
1Gbps
1 IP Address
OpenVZ
$19.99/year

** DOUBLE CPU + DISK + MEMORY ON 3 YEAR PREPAY

Order Link
December OpenVZ 3
4 Core
2GB Ram
200GB SATA
4TB Bandwidth
1Gbps
1 IP Address
OpenVZ
$39.99/year

** DOUBLE CPU + DISK + MEMORY ON 3 YEAR PREPAY

Order Link
Special-VZ1
OpenVZ
1 CPU
0.5GB Ram
20GB SSD
1TB BW
1Gbps
1IP
OpenVZ / SolusVM
$9/year ($0.75/month)
Order now
Special-VZ2
OpenVZ
2 CPU
1GB Ram
40GB SSD
2TB BW
1Gbps
1IP
OpenVZ / SolusVM
Order now
Network Information
Buffalo, NY – 107.175.18.3 – Looking Glass
Chicago, IL – 192.3.19.3 – Looking Glass
Dallas, TX (KVM Only) – 107.173.126.3 – Looking Glass
Los Angeles, CA – 107.175.217.3 – Looking Glass