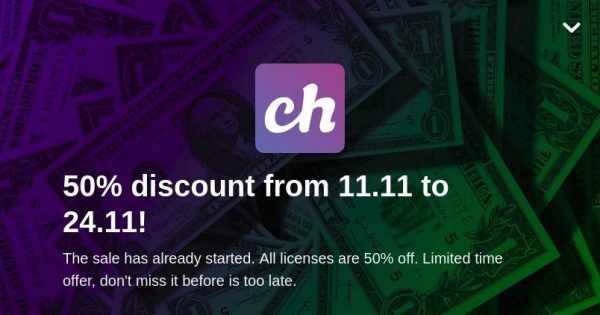 50% discount from 11.11 to 24.11!
The sale has already started. All licenses are 50% off. Limited time offer, don't miss it before is too late. Purchase now »
This year they are joining the sale season straight with 11.11, and they are carrying our offer until 24.11 to cover Black Friday. Remarkable right?
Enjoy the offer, tell everybody and spread the good news!
—
About Chevereto
Chevereto is a powerful and fast image hosting script that allows you to create your very own full-featured image hosting website in just minutes.
Chevereto Features
Responsive user interface
Upload plugin
Multi-image upload
Multi-homepage covers
Social features
Easy set up
Free version updates
Multi-language Support
Fast and Lightweight
Multi-server support
All features here: https://chevereto.com/features
System requirements
Chevereto needs at least PHP 5.5.0, MySQL server 5.0 and Apache/NGiNX. If you want worry-free hosting, check out our hosting section.