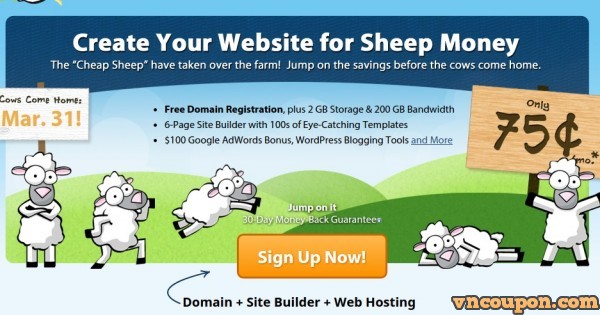 Currently FatCow web hosting company is offering FB ads voucher worth $50 and other BONUS worth $200 plus for FREE, when you buy their hosting plan for just 75 cents. Below are some of the features.
Website Features
2GB Disk Space
200GB Bandwidth
FREE Domain Registration
1 MySQL Databases
Drag and Drop Site Builder
WebSite Creator by CM4all
Content Management Systems (Joomla!, Drupal, Mambo, e107)
Blogs (WordPress, PixelPost, b2evolution)
Photo Galleries (Gallery2, Coppermine, ZenPhoto)
Forums (Gbook, phpBB, SMF)
Google Custom Search Engine
Supported Software & Scripts
PERL Support
FileManager
FTP with Unlimited FTP Subusers
Secure FTP
Custom Error Pages
URL Redirect Service
MIME Types
Visitor Statistics
ShopSite Starter Shopping Cart
osCommerce Shopping Cart
AgoraCart Shopping Cart
PayPal Integration
Shared SSL
Email Features
1 mailbox
Email Addresses at Your Domain
WebMail
Email Forwarding
Autoresponders
Customizable Spam Filters
Virus Checking
Marketing Features
Google Webmaster Tools
$100 Bonus for Google AdWords
$50 Credit for Facebook Ads
$100 Credit for Yahoo!/Bing Sponsored Search
FREE Yellow Pages Online Business Listing
The promotional price is for the first term only (75¢/month, billed $9.00 for 12 months) and renews at the rate of $20.00/year.