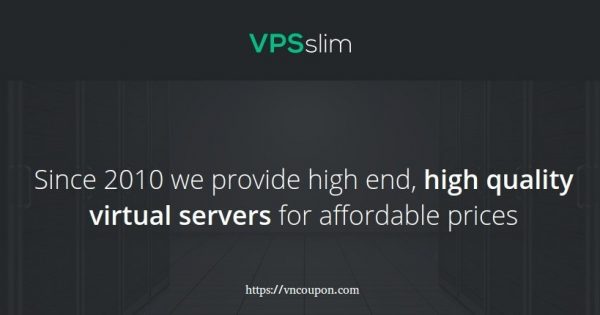 VPSslim can offer you very affordable Virtual Private Servers without any contracts!
VPSslim has been active in the hosting business for quite a while now. In that time we have become a major player in the field of virtual private server hosting. VPSslim is a profitable, healthy and independent company.
Each VPS is connected to a 1 Gbps uplink!
Instant setup
Professional and friendly support
Years of experience
Different payment possibilities
Monthly terminable
7 days money back guarantee
Easy upand downgrade your VPS
Adult hosting allowed
Halloween 2019 Offers
VPS KVM #2 
2x XEON E-series CPU Core
4096 MB RAM
4096 MB SWAP
150 GB SSD
5000 GB traffic p/m
Linux OS
1Gbps uplink
1 IPv4 address
/64 IPv6
24/7 technical support
24/7 emergency number
Own nameservers
SolusVM Control Panel
Statistics
Realtime reboot
Root access
€17.95/month €4.51/month (5$/month)
INSTANT SETUP No setup FEE, instant setup!
promocode=

HAPPYHALLOWEEN1
VPS KVM #1
1x XEON E-series CPU Core
1024 MB RAM
1024 MB SWAP
50 GB SSD
1000 GB traffic p/m
Linux OS
1Gbps uplink
1 IPv4 address
/64 IPv6
24/7 technical support
24/7 emergency number
Own nameservers
SolusVM Control Panel
Statistics
Realtime reboot
Root access
€8.95/month €2.71/month (3$/month)
INSTANT SETUP No setup FEE, instant setup!
promocode=

HAPPYHALLOWEEN2
KVM Offers
KVM VPS LITE
XEON Eseries processor
1024 MB RAM
1024 MB SWAP
50 GB HD
2000 GB traffic p/m
Linux OS
1Gbps uplink
1 IPv4 address
/64 IPv6
24/7 technical support
24/7 emergency number
Own nameservers
SolusVM Control Panel
Statistics
Realtime reboot
Root access
Price normally MONTHLY: €9.99 NOW €4.99
Promo Code: KVMLITELEB
VPS KVM #2 
2x XEON E-series processor
4096 MB RAM
4096 MB SWAP
150 GB SSD
5000 GB traffic p/m
Linux OS
1Gbps uplink
1 IPv4 address
/64 IPv6
24/7 technical support
24/7 emergency number
Own nameservers
SolusVM Control Panel
Statistics
Realtime reboot
Root access
Price normally MONTHLY: €17.95 NOW € 6.15
Promo Code: LETKVM
Payment Methods
Wire transfer
PayPal
Creditcard
BitCoin
iDEAL
Network & Datacenter
HostSlim (NL)
Looking Glass: http://lg.hostslim.nl/LookingGlass/