VPSslim – 50% OFF KVM VPS from €4.99/Month – Limited time stock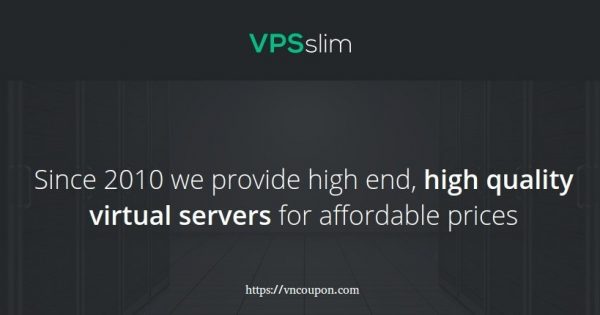 VPSslim can offer you very affordable Virtual Private Servers without any contracts!
VPSslim has been active in the hosting business for quite a while now. In that time we have become a major player in the field of virtual private server hosting. VPSslim is a profitable, healthy and independent company.
Each VPS is connected to a 1 Gbps uplink!
Instant setup
Professional and friendly support
Years of experience
Different payment possibilities
Monthly terminable
7 days money back guarantee
Easy upand downgrade your VPS
Adult hosting allowed
KVM Offers
KVM VPS LITE
XEON Eseries processor
1024 MB RAM
1024 MB SWAP
50 GB HD
2000 GB traffic p/m
Linux OS
1Gbps uplink
1 IPv4 address
/64 IPv6
24/7 technical support
24/7 emergency number
Own nameservers
SolusVM Control Panel
Statistics
Realtime reboot
Root access
Price normally MONTHLY: €9.99 NOW €4.99
Promo Code: KVMLITELEB
VPS KVM #2 
2x XEON E-series processor
4096 MB RAM
4096 MB SWAP
150 GB SSD
5000 GB traffic p/m
Linux OS
1Gbps uplink
1 IPv4 address
/64 IPv6
24/7 technical support
24/7 emergency number
Own nameservers
SolusVM Control Panel
Statistics
Realtime reboot
Root access
Price normally MONTHLY: €17.95 NOW € 6.15
Promo Code: LETKVM
Payment Methods
Wire transfer
PayPal
Creditcard
BitCoin
iDEAL
Network & Datacenter Datacenter: HostSlim (NL) & Serverius DC