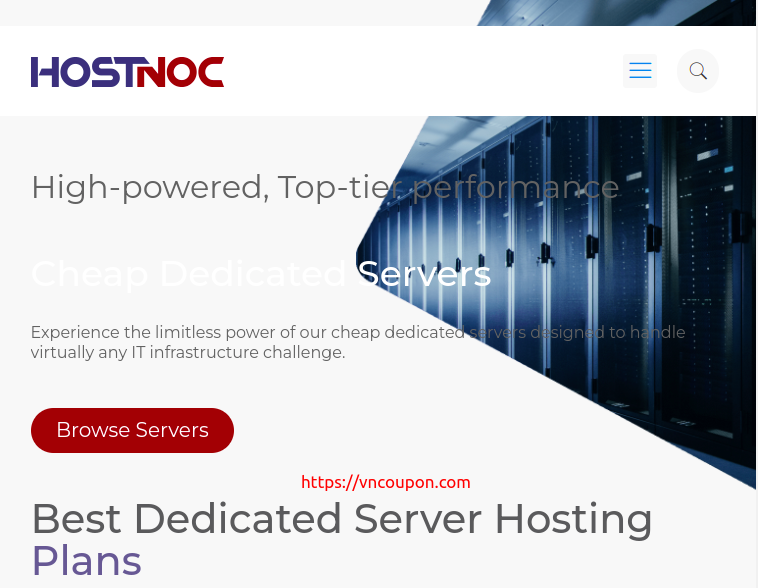 HostNoc sent their offers with 22% off Dedicated Server
Delivery in 24-48 hours | Minimal setup fees | Unmetered bandwidth 250 Mbps to 1 Gbps.
Company Overview
In 2018, a group of experienced cloud computing experts, cybersecurity professionals and network engineers got together with one dream. That dream was to provide the best IT infrastructure, support and security services by connecting with customers on a human level and help them achieve efficiency enhancements by leveraging digital transformation.

Apart from superior products and services, what sets us apart from other vendors is the fact we believe in building long-term relations by delighting clients at each touchpoint. So whether you're contacting us to explore our services or already on board with us, we will go the extra mile to help you glean maximum benefits from your digital transformation efforts.
Host Spec
Intel E5-2670 2.60 GHZ 16 Cores / 32 Threads
32 GB DDR 3
1 x 240 GB SSD &2 x 1 TB SATA
Hardware RAID5
1GBPS 20TB
Dedicated Server Offers
HN-NY1
16 GB DDR3
Intel Xeon E3-1230 v23.3 GHz 4 cores
2x 1 TB (HDD SATA)
1 Gbps 100 TB (300 Mbps Guaranteed)
$94.99/Month (price after discounts)
HN-NY2
16 GB DDR3
Intel Xeon E3-1270 v3 3.5 GHz 4 cores
1x 2 TB (HDD SATA)
1 Gbps Unmetered
$126.99/Month (price after discounts)
Payment Information
They accept Paypal, Credit Card, Mastercard, Visa, American Express, and Stripe.