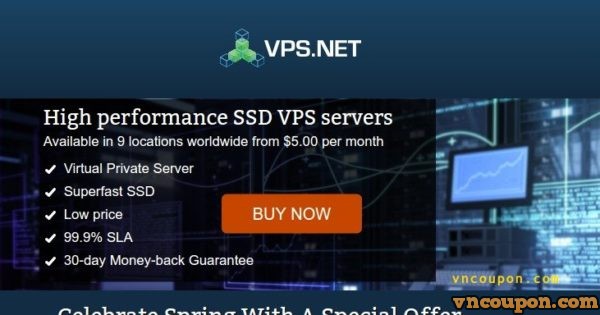 About VPS.NET
Launched in 2009 as part of the UK2Group, VPS.NET is a leading cloud services provider, offering cloud hosting to over 10,000 clients, in more than 180 different countries.
They provide 
Built for speed, every SSD VPS Server comes with a big spec, superfast SSD Disks and a low price.
Super-fast SSD storage
Low price
99.9% SLA
From $5.00 per month
Protect your business from downtime
Designed for reliability. Every Cloud-VPS server is hosted on our self-healing cloud and backed by their 1,000% SLA
Self-healing Cloud
Deploy on demand
Enterprise-grade SAN
From $15.00 per month
Cloud reliability and pre-configured W3TC for optimized WordPress hosting performance.
Up to 5 WordPress installs
Up to 50GB disk space
Suitable for high-traffic websites
From $20.00 per month
Promo Code
Celebrate Spring With A Special Offer
Use Code SPRING50 for 50% off your first 3 months
Use code GIVEME10 for $10 credit
Fall is in the air. Use FALL50 to get 50% off your first 3 months of SSD VPS
Payment Information
They accept Credit Card & Paypal with 30 day money back
Network Information
22 cloud datacenter locations worldwide: https://www.vps.net/cloud-datacenter-locations