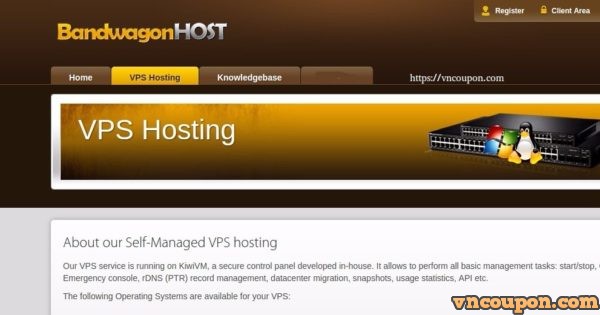 About Bandwagon Host
Host BandwagonHost is self-managed SSD VPS hosting Provider, They are owned and operated by IT7 Networks Inc. IT7 has been in operation since 2004 and is a registered Canadian corporation.
+ OpenVZ VPS (Asia Optimize Route): => Read more
+ High Ram VPS: => Read more
About VPS hosting
Bandwagon Host VPS service is running on KiwiVM, a secure control panel developed in-house. It allows to perform all basic management tasks: start/stop, OS reload, Emergency console, rDNS (PTR) record management, datacenter migration, snapshots, usage statistics, API etc.
KVM VPS advantages:
Full virtualization
Custom kernel support (BBR, etc)
Better isolation
Better network throughput
KVM VPS Promo Plans
+ VPS technology: KVM/KiwiVM
+ OS: 32 or 64 bit Centos, Debian, Ubuntu
+ Instant OS reload
+ IPv4: 1 dedicated address
+ IPv6 support: **No**
+ Full root access
+ Instant RDNS update from control panel
+ No contract, anytime cancellation
+ Strictly self-managed, no support
+ 99.5% uptime guarantee
10G KVM – PROMO
20G KVM – PROMO

SSD: 10 GB RAID-10
RAM: 512 MB
CPU: 1x Intel Xeon
Transfer: 500 GB/mo
Link speed: 1 Gigabit
$2.99 USD Monthly
$7.99 USD Quarterly
$12.99 USD Semi-Annually
$19.99 USD Annually

SSD: 20 GB RAID-10
RAM: 1024 MB
CPU: 2x Intel Xeon
Transfer: 1 TB/mo
Link speed: 1 Gigabit
$4.99 USD Monthly
$13.99 USD Quarterly
$25.99 USD Semi-Annually
$49.99 USD Annually
—
40G KVM – PROMO
80G KVM – PROMO

SSD: 40 GB RAID-10
RAM: 2 GB
CPU: 3x Intel Xeon
Transfer: 2 TB/mo
Link speed: 1 Gigabit
$9.99 USD Monthly
$27.99 USD Quarterly
$52.99 USD Semi-Annually
$99.99 USD Annually

SSD: 80 GB RAID-10
RAM: 4 GB
CPU: 4x Intel Xeon
Transfer: 3 TB/mo
Link speed: 1 Gigabit
$19.99 USD Monthly
$59.99 USD Quarterly
$107.99 USD Semi-Annually
$199.99 USD Annually
—
160G KVM – PROMO
320G KVM – PROMO

SSD: 160 GB RAID-10
RAM: 8 GB
CPU: 5x Intel Xeon
Transfer: 4 TB/mo
Link speed: 1 Gigabit
$39.99 USD Monthly
$112.99 USD Quarterly
$213.99 USD Semi-Annually
$399.99 USD Annually

SSD: 320 GB RAID-10
RAM: 16 GB
CPU: 6x Intel Xeon
Transfer: 5 TB/mo
Link speed: 1 Gigabit
$79.99 USD Monthly
$227.99 USD Quarterly
$432.99 USD Semi-Annually
$799.99 USD Annually
Network Information
Please contact Bandwagon Host by Open Ticket