Tragic Servers offer 2GB RAM SSD VPS only $15/Year in Los Angeles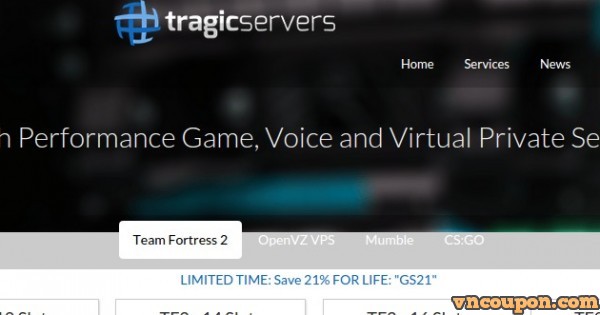 TragicServers was founded in May 2012 to provide quality game, voice and virtual private servers.
They only use OWNED enterprise grade hardware/servers powered by Intel processors, RAID-10 arrays for drive safety and much more. VPS are located in Chicago, IL, Dallas, TX and Los Angeles, CA.
VPS Features
SolusVM Control Panel
OpenVZ / KVM Virtualization
Additional IPv4 addresses available
Additional IPv6 addresses available
Automated rDNS
Instant Setup
SSD VPS Offers
OVZ-SSD-2048MB-10GB
2048MB Guaranteed RAM
1 CPU Cores
10GB SSD
1000GB Bandwidth
1 IPv4
3 IPv6
1Gbps
$14.99/yr
OVZ-SSD-4096MB
4096MB Guaranteed RAM
1 CPU Cores
25GB SSD
4000GB Bandwidth
1 IPv4
3 IPv6
1Gbps
$4.99/month
Network Information
+ Los Angeles IP: 198.55.111.5