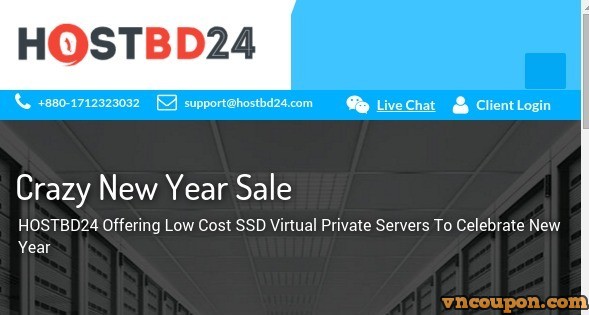 HOSTBD24 Crazy Offers
HOSTBD24 provide Web Hosting Services Since 2013 With 100% Customer Satisfactions. They are a company from BANGLADESH. They offering Low Cost SSD Virtual Private Servers To Celebrate New Year. All Of their VPS Comes With Asia Optimized Network & Free Incoming Bandwidth.
Crazy New Year Sale
All plans include:
OpenVZ Platform
1 Gbps Network
10 Gbps free DDos Protection
1 IPv4
+ CRAZY1: 1 vCore CPU/ 256MB RAM/ 5GB SSD/ 250GB Bandwidth/ $5 Yearly
+ CRAZY2: 1 vCore CPU/ 512MB RAM/ 10GB SSD/ 500GB Bandwidth/ $10 Yearly
+ CRAZY3: 2 vCore CPU/ 1024MB RAM/ 15GB SSD/ 1TB Bandwidth/ $20 Yearly
+ CRAZY4: 1 vCore CPU/ 256MB RAM/ 100GB RAID-5 HDD/ 1TB Bandwidth/ $25 Yearly
(Removed Link)
Dedicated Sales
CRAZYDEDI
Intel Core i5-2400
CPU: 4×3.1 GHz
Threads: 4
RAM: 16GB
Storage: 160 GB SSD
Network : 100 Mbps
Bandwidth: Unmetered
IP Address: /29 IPv4 Allocation (5 Usable IPs)
DDoS Protection: 10 Gbps
$45.00 USD/month
Order Now (Removed Link)
Also You Can Get:
+ Free Setup For SSL Certificate from letsencrypt.org
+ Comodo Positive SSL Certificate For $4.50 USD /year (Free Setup)
+ cPanel License For VPS Only @ 12 USD /month (Free Setup)
Network & Payment Information
They offer easy 7 day Money Back Guarantees. They accept Paypal.
+ Server Location: Los Angeles, CA, USA
+ Looking Glass: https://hostbd24.com/our-network