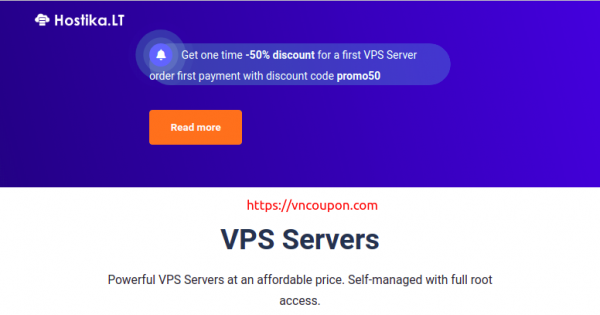 About Hostika.LT
Our company was founded on 2014 and today, for more than 6 years we providing reliable and high quality hosting services at an affordable prices.

UAB "Kriseda"
Company reg. number: 303354669
VAT Number: LT100008749216
Address: Lygybės g. 21-86, Kaunas LT-51379, Lithuania
Hostika.LT VPS servers located in Europe/Lithuania. They offers -50% One Time Discount on Shared Hosting and KVM VPS from €2.75/month
Please use this discount code promo50 to get one time -50% discount for a first order first payment.
This discount is valid only for Shared Hosting and for VPS Servers.
Discount is valid for a first ordered service first payment.
First payment period can be from 1 month and up to 3 years period.
Discount is not valid for second and other orders.
Discount is not valid for services renewals.
KVM VPS Plans
VM10
2GB RAM
1 Cores CPU
25GB HDD
1 IPv4
€5.50/month – 50% = €2.75/month
VM20
4GB RAM
2 Cores CPU
50GB HDD
1 IPv4
€6.90/month – 50% = €3.45/month
VM30
8GB RAM
4 Cores CPU
100GB HDD
1 IPv4
€9.90/month – 50% = €4.95/month
VM40
12GB RAM
6 Cores CPU
150GB HDD
1 IPv4
€12.90/month – 50% = €6.45/month
VM50
16GB RAM
8 Cores CPU
200GB HDD
1 IPv4
€16.90/month – 50% = €8.45/month
OpenVZ VPS Plans
VDS1
3GB RAM
1 Cores CPU
80GB HDD
1 IPv4
5.50EUR/month – 50% = €2.75/month
VDS2
8GB RAM
2 Cores CPU
100GB HDD
1 IPv4
6.90EUR/month – 50% = €3.45/month