[Summer Sale] ServaRICA – Special Shared Hosting & Storage VPS offers on Summer 2021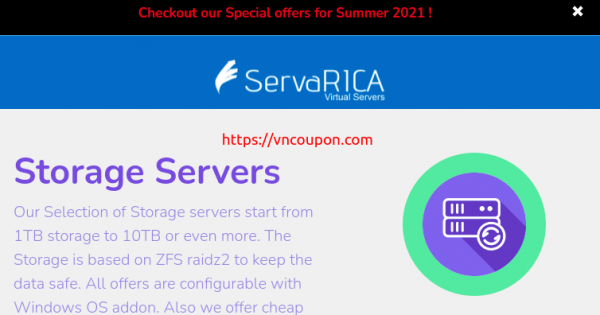 Finally ServaRICA has restocked their storage offers! They offer Special Storage Shared Hosting from $16/Year & Special Storage VPS from $48/Year. Limited Stock!
About ServaRICA
We are a Canadian infrastructure provider that provide Virtual Servers and other special customization and automation services. We have been in business since 2010 and we have excellent track record since then.
Special Shared Hosting Plans
Shared Hosting Plan – SSD Starter
1 Domain
Subdomains Unlimited
FTP Accounts Unlimited
1 Database
5GB SSD Storage
2 Email accounts
Unmetered Bandwidth
Weekly backups
Free SSL
$16.00USD Annually
Shared Hosting Plan – SSD 2
1 free domain with yearly payment (Domain fees are non refundable)
20 Domains
Subdomains Unlimited
FTP Accounts Unlimited
20 Databases
50GB SSD Storage
100 Email accounts
Unmetered Bandwidth
Weekly backups
Free SSL
$6.00USD Monthly
Shared Hosting Plan – SSD 3
1 free domain with yearly payment (Domain fees are non refundable)
40 Domains
Subdomains Unlimited
FTP Accounts Unlimited
40 Databases
100GB SSD Storage
400 Email accounts
Unmetered Bandwidth
Weekly backups
Free SSL
$10.00USD Monthly
Shared Hosting Plan – SSD PLUS
1 free domain (Domain fees are non-refundable)
Unlimited subdomains
5 databases
3 websites
5 databases
25GB SSD Storage
20 email accounts
2TB bandwidth
Weekly backups
Free SSL
$35.00USD Annually
Speical Storage VPS Plans
Node Specs
– 2x Intel Xeon (E5-2650 / E5-2650v2 / E5-2680v4) CPU or better
– 128GB RAM or more
– SAN Storage or local SSD/NVMe storage
– Raidz2
– 20Gbps uplink
Flying Fish SSD Offer (
Restock

)
4 CPU cores
4GB RAM
200GB SSD disk
Unlimited transfer on 100mbps or 4TB limit on 1gbps
1x IPv4
IPv6 available by request
Server Location Montreal, Canada
Starting from $48.00USD Annually
Polar Bear Storage Offer- 2021
2 Shared CPU cores
3 GB RAM
2TB disk
RAIDz2 Storage
Unlimited transfer on 100mbps or
4TB limit on 1gbps
1x IPv4 Included
IPv6 available by request
Server Location Montreal, Canada
Starting from $72.00USD Annually
Horse Storage Offer
3 Shared CPU cores
3 GB RAM
3 TB Disk Space RAIDz2 Storage
Unlimited 100mbps Bandwidth or 4TB limit on 1gbps
1x IPv4 included
IPv6 available by request
Server Location Montreal, Canada
Starting from $10.00USD Monthly
Penguin Storage Offer 2021
4 Shared CPU cores
6 GB RAM
4TB disk RAIDz2 Storage
Unlimited 100mbps Bandwidth or 4TB limit on 1gbps
1 IPv4 Included
IPv6 available by request
Server Location Montreal, Canada
Starting from $13.00USD Monthly
Mammoth Storage 2021
4 Shared CPU cores
8GB RAM
8TB disk RAIDz2 Storage
Unlimited transfer on 100mbps or 8TB limit on 1gbps
1 IPv4 Included
IPv6 available by request
Server Location Montreal, Canada
Starting from $26.00USD Monthly
Killer Whale Storage offer
2 GB RAM
3.5TB disk RAIDz2 Storage
Unlimited transfer on 100mbps or 6TB limit on 1gbps
1x IPv4
IPv6 available by request
Server Location Montreal, Canada
Starting from $84.00USD Annually
If you need a cheap hosting vps? => A list of cheap Storage VPS Hosting
Payment Information
They accept:
Credit Cards (VISA, MasterCard)
Paypal
Bitcoin
Alipay
Network Information
Kolotek – Boucherville,Qc Canada
Montreal , Quebec , Canada