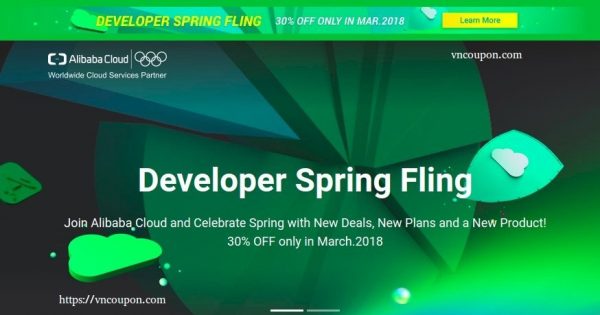 30% OFF new subscriptions, one instance per user, only in March 2018. Please note that discounts can only be reached through this page and discounts cannot be used with vouchers.
1. Simple Application Server (SAS) (30% OFF)
A simple easy-to-use product perfect for beginner developers
Easy to start, multiple images and software installed.
Easy-to-scale, seamlessly open a new instance in seconds
Easy billing, predictable price every month.
SAS 1C512MB
SAS 2C4G

1 Core CPU
0.5GB Memory DDR4
20GB SSD Cloud Disk
1TB Data Transfer
$3.15/MO

2 Core CPU
4GB Memory DDR4
60GB SSD Cloud Disk
4TB Data Transfer
$27.3/MO
2. Elastic Compute Service (ECS) (30% OFF)
Suitable for developers with more experience, provides both flexibility and power
Full access to your own server, build everything yourself.
Easily connected to all Alibaba Cloud products including AI, Big Data, IoT, etc.
Build industry solutions in Finance, Gaming, Retail, Manufacturing and more.
ECS T5.Nano
ECS Sn1.Medium

1 Core CPU
512MB Memory DDR4
40GB Ultra Cloud Disk
IO-Optimized
$3.73/MO

2 Core CPU
4GB Memory DDR4
40GB Ultra Cloud Disk
Compute Optimized Type
$38.35/MO
3. Try GitHub Enterprise for 90 days(Free)
Securely develop your company's software on GitHub, whether you work for a small startup or a large enterprise. Start your trial
4. Apsara for RDS 30% OFF
MySQL, SQL Server and PostgreSQL.Handles provisioning, patching, backup, recovery, failure detection, and repair. Buy now
5. $300 New User Credit
Receive $50 Elastic Computing credit and $250 credit for other products as shown below. Credit is valid for 60 days and automatically added to your account. You will not be charged unless your free credit is exceeded.  View details
All Developer Spring Fling Promotions => Click Here