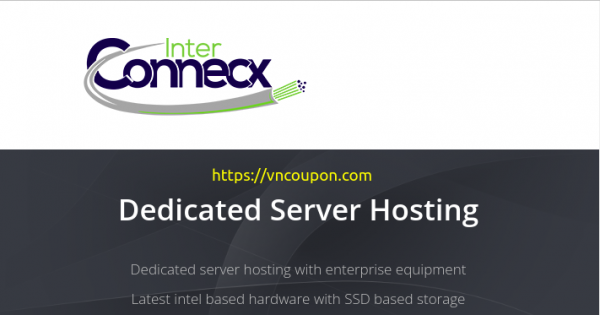 Interconnecx provide a range of hosting solutions to a global client base and have built a reputation of quality and reliability! They offer Special Dedicated Servers from $99/month – 2x Intel Xeon E5520 + 16GB RAM + 500 GB SSD!
Redundant network (AT&T, Cogent, Hurricane Electric, Telia + other peering), 100% Uptime SLA guarantee & Interconnecx owned IP blocks.
Interconnecx's network is fully BGP Multihomed and is maintained by Interconnecx and not a third party.
Excellent location and Soc Audited Tier3 data center facility.
Powerful Dell PowerEdge, HP, & IBM Servers
rapid 24/7 Technical Support is fast, friendly and knowledgeable
Competitive pricing, risk-free and excellent data center infrastructure.
They are not new & are knowledgeable. Their first dedicated server client is still with us as of today.
They allow most legal traffic. VPN, Tor and seeding is allowed.
All servers come with 1Gbps and 33TB transfer.
Special Dedicated Server Offers
dedicated-server-1 -Dual Intel Xeon 12C/24T Hyperthreading
2 x Intel Xeon E5520 OR EQUIVALENT, 2.3GHz (8C/16T)
16 GB DDR3 ECC RAM
500 GB SSD
IPMI 2.0 or Dell iDRAC (KVM over IP)
33TB on 1Gbps Burstable Port
Network: AT&T, Cogent, Hurricane Electric, Telia
Free Traffic/Port Monitoring
5 IPV4 addresses /29 ipv4
/64 IPv6 subnet (available upon request)
Upgrades & customizations available
Monthly Contract (No forced annual contracts however they are available; if requested)
24-48 Hour Dedicated Server Provisioning Guarantee
Server Hosted in Detroit, MI or Kansas City, MO
We own the hardware. We are not resellers.
Price: $99.00/month
dedicated-server-2 – Dual Intel E5 V2 Xeon 12C/24T Hyperthreading
2 x Intel Xeon E5 2620 V2, 2.6 GHz (12C/24T)
32 GB DDR3 ECC RAM
1 TB SSD
IPMI 2.0 or Dell iDRAC (KVM over IP)
33TB on 1Gbps Burstable Port
Network: AT&T, Cogent, Hurricane Electric, Telia
Free Traffic/Port Monitoring
5 IPV4 addresses /29 ipv4
/64 IPv6 subnet (available upon request)
Upgrades & customizations available
Monthly Contract (No forced annual contracts however they are available; if requested)
24-48 Hour Dedicated Server Provisioning Guarantee
Server Hosted in Detroit, MI , Cleveland, OH or Kansas City, MO
We own the hardware. We are not resellers.
Price: $149.00/month
dedicated-server-3 – Dual Intel E5 V2 Xeon 20C/40T Hyperthreading
2 x Intel Xeon E5 2690 V2, 3.0 GHz (20C/40T)
32 GB DDR3 ECC RAM
1 TB SSD
IPMI 2.0 or Dell iDRAC (KVM over IP)
33TB on 1Gbps Burstable Port
Network: AT&T, Cogent, Hurricane Electric, Telia
Free Traffic/Port Monitoring
5 IPV4 addresses /29 ipv4
/64 IPv6 subnet (available upon request)
Upgrades & customizations available
Monthly Contract (No forced annual contracts however they are available; if requested)
24-48 Hour Dedicated Server Provisioning Guarantee
Server Hosted in Detroit, MI , Cleveland, OH or Kansas City, MO
We own the hardware. We are not resellers.
Price: $199.00/month
dedicated-server-4 – Dual Intel E5 V3 Xeon 12C/24T Hyperthreading
2 x Intel Xeon E5 2620 V3, 2.6 GHz (12C/24T)
64 GB DDR3 ECC RAM
2 X 1 TB SSD
IPMI 2.0 or Dell iDRAC (KVM over IP)
200TB on 1Gbps Burstable Port
Network: AT&T, Cogent, Hurricane Electric, Telia
Free Traffic/Port Monitoring
5 IPV4 addresses /29 ipv4
/64 IPv6 subnet (available upon request)
Upgrades & customizations available
Monthly Contract (No forced annual contracts however they are available; if requested)
24-48 Hour Dedicated Server Provisioning Guarantee
Server Hosted in Detroit, MI , Cleveland, OH or Kansas City, MO
We own the hardware. We are not resellers.
Price: $299.00/month
dedicated-server-5 – 1 TB Special
2 x Intel E5 2650 2.8Ghz (16C/32T)
32 GB DDR3 ECC RAM
1 TB SSD
IPMI 2.0 or Dell iDRAC (KVM over IP)
100TB on 1Gbps Burstable Port
Network: AT&T, Cogent, Hurricane Electric, Telia
Free Traffic/Port Monitoring
5 IPV4 addresses /29 ipv4
/64 IPv6 subnet (available upon request)
Upgrades & customizations available
Monthly Contract (No forced annual contracts however they are available; if requested)
24-48 Hour Dedicated Server Provisioning Guarantee
Server Hosted in Detroit, MI or Kansas City, MO
We own the hardware. We are not resellers.
Price: $129.00/month
Payment Information
PayPal
Mail In Payment/Check
Credit Card
Network Information
Detroit, MI – 104.244.209.1
Cleveland, OH – 38.101.74.255
Kansas City, MO – 38.146.5.255