Register .EU domain for 10 years only $16.99 on Dynadot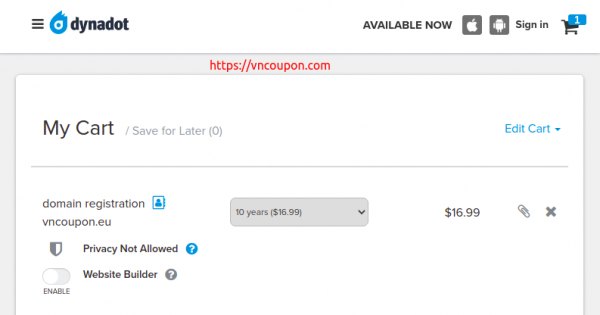 Register your brand new .EU domain name for 10 years and only pay $16.99 on Dynadot!
Simply search for your name, add it to cart, select 10 years in the drop-down, and checkout. Offer ends 5/12/21 23:59 CEST.
=> [ Promo Link ] (expired)
Register Your .EU Domain
Reach over 500 million Europeans in over 30 countries with one domain: .EU, the domain for the European Union! Creating your online presence with a .EU website gives you a European identity that goes a long way in establishing trust and credibility in Europe. Plus, with so many .COM domain names already taken, you are much more likely to find the name you really want with a .EU domain.
Starting a .EU website is a great way for businesses to establish their online presence as a European company. Expand your business with a .EU domain name by letting customers know you're open for business across Europe right in your URL. A .EU website is also a great place for your blog or personal website because it will allow you to connect with people across Europe. Don't limit yourself to a specific European country code domain (ccTLD), choose .EU and open your website to all of Europe!
Domain Pricing
Years
1
2
3
4
5
6
7
8
9
10
Register
$3.99
$9.98
$15.97
$21.96
$27.95
$33.94
$39.93
$45.92
$51.91
$16.99
Renew
$5.99
$11.98
$17.97
$23.96
$29.95
$35.94
$41.93
$47.92
$53.91
$59.90
Transfer
$5.99