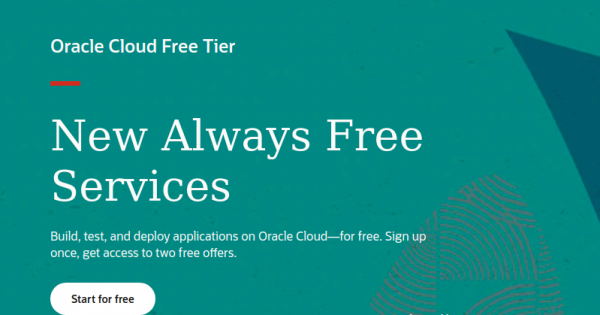 The free tier program has two components. In addition to the "always free" services, Oracle is introducing "Oracle Cloud Free Tier" – a free trial program that provides users with $300 in credits for 30 days to try additional services and larger shapes.
New Always Free
The "always free" services include Oracle Autonomous Database, Compute VMs, Block Volumes, Object and Archive Storage and Load Balancer. More specifically, users get:
2 Autonomous Databases (Autonomous Data Warehouse or Autonomous Transaction Processing), each with 1 OCPU and 20 GB storage
2 Compute VMs, each with 1/8 OCPU and 1 GB memory
2 Block Volumes, 100 GB total, with up to 5 free backups
10 GB Object Storage, 10 GB Archive Storage, and 50,000/month API requests
1 Load Balancer, 10 Mbps bandwidth
10 TB/month Outbound Data Transfer
500 Million ingestion Datapoints and 1 Billion Datapoints for Monitoring Service
1 million Notification delivery options per month and 1000 emails per month
30-day Free Trial
US$300 in free credits.
Access to a wide range of Oracle Cloud services for 30 days, including Databases, Analytics, Compute, and Container Engine for Kubernetes
Up to eight instances across all available services
Up to 5 TB of storage
The Always Free services are available in all regions, to anyone — including those with paid accounts using Universal Credit pricing and new Free Tier accounts.