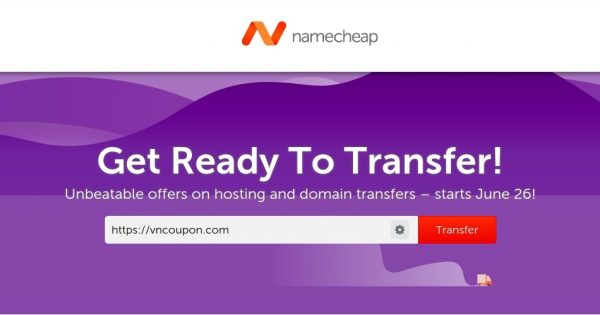 Save up to 50% in Namecheap Transfer Sale
For three days only, starting June 26 (12 AM EST), you can save 50% on transferring your .com, .org and .net to Namecheap, and 24% on your .io. Plus, with 50% off the first year of Stellar shared hosting package when you transfer your hosting, and 2 months of free Private Email, you'll have everything you need to get up and running! Also, with  industry-renowned customer service and free WhoisGuard privacy protection for life, there's never been a better time to switch to Namecheap.
=> Promo Page
| | |
| --- | --- |
| Coupon Code | Description |
| COMTRANSFER | 50% OFF .COM Domain Transfer only $4.88/1st year |
| NETTRANSFER | 50% OFF .NET Domain Transfer only $5.94/1st year |
| ORGTRANSFER | 50% OFF .ORG Domain Transfer only $5.74/1st year |
| IOTRANSFER | 24% OFF .IO Domain Transfer only $24.98/1st year |
| HOSTINGTRANSFER | 50% OFF Stellar Shared Hosting only $12.44/1st year |
=> All Namecheap Coupon
WHY TRANSFER TO NAMECHEAP?
50% off Stellar Hosting with up to 50 free Positive SSL certificates.
Save 50% on transferring .com, .org, .net, and 24% on .iodomains.
2 months of free Private Email, and Free WhoisGuard privacy protection for everyone, FOREVER.
Get a free .website domain with every Stellar hosting package.
Disclaimers
This offer is first-come, first-served basis.
An additional $0.18 ICANN fee is charged for .com, .org and .net domain transfers (standard ICANN disclaimer).
Coupons will be valid from 12 AM EST on June 26 to 11:59 PM EST on June 28.
To use all the coupons, you will need to process separate orders (you can only apply one coupon per shopping cart/order).
They will provide one coupon code per offer (eligible for up to 50 domain transfers) for one business/household (e.g. client can get 50 .com transfers, 50 .io transfers, 50 .org transfers, 50 .net transfers and one Stellar Package).
Hosting coupon is limited to one per business/household.
The discount will not be applied on domains that were previously transferred out of Namecheap.
With every domain transfer, you receive a free WhoisGuard subscription and two months of free Private Email.
If you have renewed your domain within the last 45 days: The one-year extension normally added to the domain during a transfer may not be included. This situation occurs only if the domain actually expired before you renewed it with your previous registrar. If this is the case with your domain, we recommend you wait to move your domain until the 45-day period has passed, allowing you to take advantage of the extra year added.