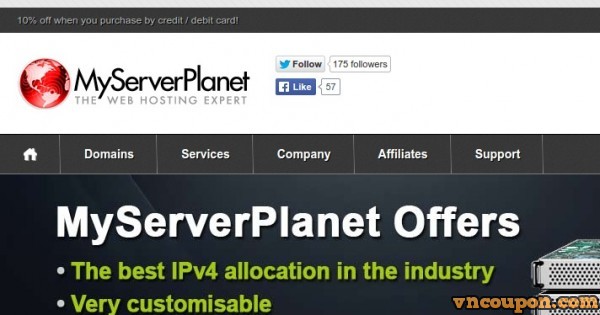 MyServerPlanet Ltd. – A registered company in England & Wales.
Software
They use the latest high specification software on their top of the range Dell servers. For their own VPS server they use SolusVM, to empower the control you need – You can control your entire infrastructure within SolusVM – reboot, shut down or even install another operating system of your choice, you can also look at bandwidth graphs and bandwidth – You have complete root access to their server.
OpenVZ
Clients with OpenVZ VMs can set Reverse DNS, reinstall within minutes with pre-made templates and enable TUN/TAP/PPP straight from the control panel if they wish to setup VPN. With OpenVZ you are restricted with 2.6.x OpenVZ kernel and is part virtualisation system with restrictions such as you having to contact us to load iptable modules, fuse etc.
VPS Special Plans
VPS9.9!
15GB HDD
512MB ram
600GB bandwidth
1 IP address
1 core
£9.99/yr
Order Here
VPS5.5!
10GB HDD
386MB Ram
550GB bandwidth
1 core
1 IP address
£5.50/yr
Order Here
VPS2.5!
7GB HDD
256MB ram
1 Core
500GB bandwidth
1 IP address
£2.50/yr
Order Here
Free with these plans you get a SolusVM to manage and control your VPS the way you want.
Location: New York.