HiFormance – Exclusive KVM VPS Offer from $3/month – 1GB RAM + 20GB SSD in Utah, USA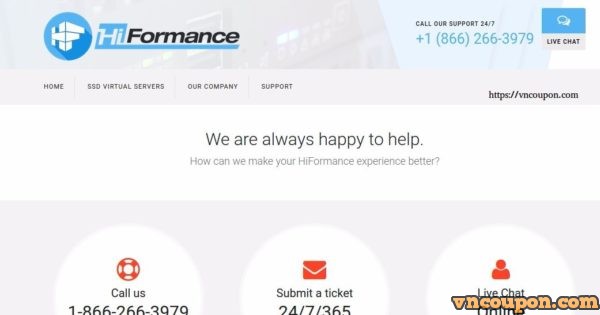 HiFormance promises to deliver high quality hosting solutions following three key principles: Performance, Reliability, Innovation. These three principles blended together in perfect harmony will allows us to offer a unique hosting experience with the guarantee of consumer satisfaction.
Their focus is to offer high performing, reliable, and genuine SSD KVM virtual servers in North America. They have educated and dedicated staff that are able to provide above and beyond support which to us means taking the initiative to ensure their clients have the best experience possible. They can be reached by phone, email (ticket system), and live chat. Their live chat and phone support is available Mon-Fri 8am-10pm EST. They are also in the final stages of deploying Chicago, IL nodes with Los Angeles, CA to follow.
Special KVM Offers
Node Spec:
– KVM Virtualization
– 2x Intel Xeon E5-2650 CPU
– 128GB RAM
– 4x 960GB SSD
– Hardware RAID10 (1GB cache)
– 1Gbps uplink
KVM VPS Offer 1:
1 x CPU
1GB Ram
20GB SSD Storage
2 TB Bandwidth
1Gbps uplink
1 x IPv4
0 x IPv6 * ( We will allocate IPv6 for free once we receive them from our provider)
KVM/SolusVM
$3/month
$36/year
KVM VPS Offer 2:
2 x CPU
3GB Ram
30GB SSD Storage
3 TB Bandwidth
1Gbps uplink
1 x IPv4
0 x IPv6 * ( We will allocate IPv6 for free once we receive them from our provider)
KVM/SolusVM
$5/mth
$60/year
Special-KVM1
Instant Deployment
1 CPU Core
20GB SSD Disk Space
1GB Ram
2TB Bandwidth
SolusVM Control Panel
1Gbps
1IP
$4/month
Special-KVM2
Instant Deployment
2 CPU Core
40GB SSD Disk Space
2GB Ram
4TB Bandwidth
SolusVM Control Panel
1Gbps
1IP
$4/month
Network Information
+ Data Center: WebNX – Ogden, Utah, USA
+ Test IPv4: 127.0.0.1
+ Test IPv6: 64.140.169.124
+ Test file: http://lg.ut.hiformance.net/1GB.bin
+ Looking glass: http://lg.ut.hiformance.net/