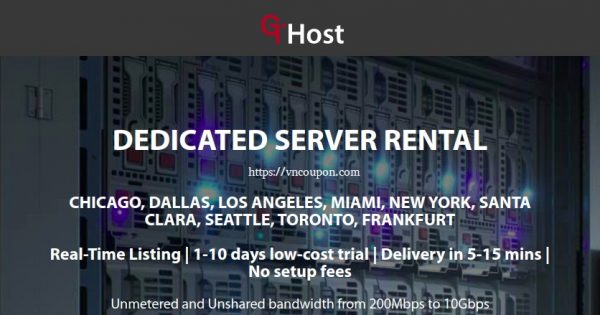 GTHost offers 30% OFF Instant Dedicated Servers in 11 locations. No setup fees. Month to month. Trial from 5/day.
Instant Dedicated Servers in 15 locations: Ashburn, Atlanta, Chicago, Dallas, Denver, Los Angeles, New York, Miami, Santa Clara, Seattle, Montreal, Toronto, Vancouver, Frankfurt, London
Delivery in 5-15 mins after payment 24/7. No setup fees. Month to month. Linux auto-deploy.
About GTHost.com
GLOBALTELEHOST Corp. was founded in 2012 with the core concept of providing optimal service at an affordable price. Our leading team of specialists have more than two decades of combined experience and we put that knowledge to use in everything we do – from our in-house maintenance and customer service to our commitment to finding and providing the best solutions for dedicated servers, data centers and networks. We keep costs low and quality high by providing our own in-house maintenance, free setup and unmetered bandwidth for all of our service packages. Our data center locations are also strategically located to provide optimal speed and quality for each region we service.
GTHost is a proudly Canadian company serving areas all around the world.
GTHost Promotions
1. DISCOUNT ON THE 1ST MONTH
Take 30% OFF the 1st month on any Instant Servers
Offer valid until September 30, 2021
Your Code: SEP-30D
Unmetered and Guaranteed bandwidth from 200Mbps to 10Gbps
Rent a Server for tests from $5/day, delivery in 15 mins 24/7
Clear Specs – know what you are getting
Motherboard, CPU, RAM, Drives, Power Supplies.
Instant Dedicated Server Features
Supermicros Chassis
WAN 200Mbit/s Speed Port
LAN 1Gbit/s Speed Port
Private VLAN
Unmetered Bandwidth Only
Linux Auto-Deploy
IPMI
Remote Power Control
2 Power Supplies
Full Root Access
Delivery In 5-15 Minutes
1-10 Days Trial Period
No Setup Fees
Payment Month To Month
100% Uptime SLA
Support 24/7
Network Information
Looking Glass
https://gthost.com/looking-glass/
Test IPv4
Ashburn: 142.202.49.166 , https://gthost.com/ashburn-dedicated-servers/
Atlanta: 167.88.63.166 , https://gthost.com/atlanta-dedicated-servers/
Chicago: 162.251.60.175 , https://gthost.com/chicago-dedicated-servers/
Dallas: 167.88.62.166 , https://gthost.com/dallas-dedicated-servers/
Denver: 139.64.164.166 , https://gthost.com/denver-dedicated-servers/
Los Angeles: 162.251.63.175 , https://gthost.com/los-angeles-dedicated-servers/
New York: 38.99.247.166 , https://gthost.com/new-york-dedicated-servers/
Miami: 162.251.62.176 , https://gthost.com/miami-dedicated-servers/
Santa Clara: 167.88.60.166, https://gthost.com/santa-clara-dedicated-servers/
Seattle: 38.91.102.176 , https://gthost.com/seattle-dedicated-servers/
Monreal: 158.51.120.66 , https://gthost.com/monreal-dedicated-servers/
Toronto: 198.57.26.172 , https://gthost.com/toronto-dedicated-servers/
Vancouver: 158.51.122.166 , https://gthost.com/vancouver-dedicated-servers/
Frankfurt: 193.108.116.176 , https://gthost.com/frankfurt-dedicated-servers/
London: 142.202.51.166 , https://gthost.com/london-dedicated-servers/