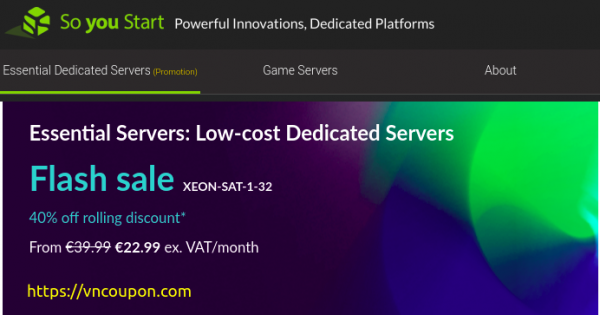 Are you looking for an affordable yet powerful machine? So you Start has designed a rental line of dedicated servers perfect for startups and small businesses looking for power and flexibility. The reliability of the So you Start dedicated servers would be an undeniable asset to your business.
Essential Servers: Low-cost Dedicated Servers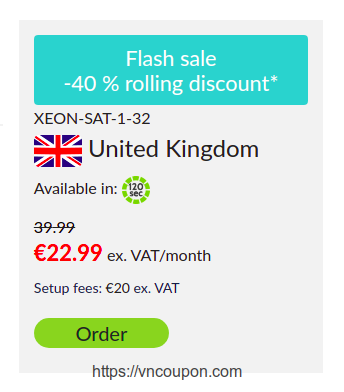 Flash sale 
XEON-SAT-1-32
40% off rolling discount*
From 

€

39

.99 

€

22

.99 ex. VAT

/month 

Processor: Intel Xeon D-1520
RAM: 32GB DDR4 ECC 2133MHz
Traffic: Unlimited
Anti-DDoS Included
Cores/Threads: 4c/8t
Disks: SoftRAID 4x2TB SATA
IPv4: 1
Failover IPs: 16 included and up to 128 as an option (€1.00 ex. VAT/month/IP)
Frequency: 2.2GHz /2.6GHz
Bandwidth: 250 Mbps
IPv6: /64
Backup space: 100 GB (included)/Up to 10 TB as an option
*This special offer gives you 40% off the price of a So you Start XEON-SAT-1-32 Dedicated Server. This offer is valid for new orders (excluding renewals) of Dedicated Servers hosted in  datacentres in France (Roubaix, Gravelines, Strasbourg), Poland (Warsaw), Germany (Frankfurt) and the UK (London), placed between 4th October 2021, 14:00 BST, and 11th October 2021, 14:00 BST, subject to the availability of the server chosen, with the time at which the order is processed by So you Start used as proof in the event of any disputes. This reduced price will be valid until service cancellation. Cannot be used in conjunction with any other promotional offers applicable to the service. To subscribe, you will need to accept the So you Start contractual conditions.