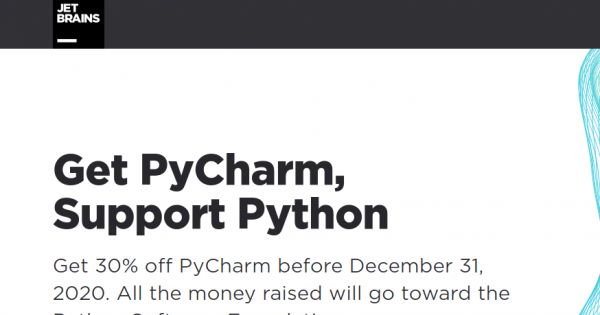 Get 30% off PyCharm before December 31, 2020. All the money raised will go toward the Python Software Foundation.
JetBrains PyCharm and Python Software Foundation Announce 30% Discount With All Proceeds Going to Python!
Up until December 31, 2020, you will be able to effectively contribute to Python by purchasing an individual annual subscription to PyCharm Professional with a 30% discount. It's very simple:
On the checkout page, click "Have a discount code?" and enter the 30% discount promo code:
ISUPPORTPYTHON2020
This promo code can only be applied when buying a new individual PyCharm Professional Edition annual subscription. The offer doesn't apply to any other products or types of subscriptions.