FAPVPS – Special KVM VPS Plan 256MB + 256MB of RAM only $18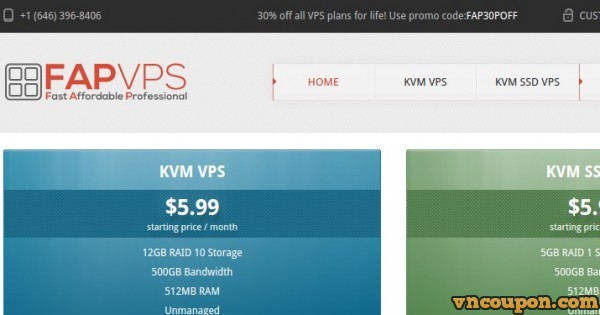 FAPVPS was established to provide exactly what the name says: Fast, Affordable, Professional Virtual Private Servers. With years of experience in the web hosting industry and a passion to deliver a high quality service, our number one goal is customer satisfaction. We own all the hardware and never oversell resources. Our nodes are monitored 24 hours a day 7 days a week.
KVM SSD VPS Hosting
Our SSD powered VPS's offer the IO needed by today's web applications. Depending on you applications it is possible to speed it up considerably just by using SSD technology.
Weekly Backups
Your VPS is backed up weekly. You can request your latest backup to be restored at any time by submitting a ticket. We will make your full backup available for download upon request.
We offer RAID storage
Your data will be protected from single disk or SSD failure by our RAID setup. We provide a HW RAID 10 setup for our non-SSD plans and at least a RAID 1 setup for our SSD VPS offerings.
Cloudmin Control Panel
The Cloudmin control panel allows console access to your VPS. You will be able to re-image you instance in minutes to a fresh OS and reboot your VPS any time.
Special Plan: Single Core Lite KVM
1 Core
256 MB RAM
5GB RAID 10 Storage
Monthly Bandwidth 120GB
100Mbps Connection
1 IPv4 Address
Weekly Backup
$15 per year

Serverbear:
http://serverbear.com/benchmark/2014/01/23/Zaw5iU63YuMNdBor
Network
Datacenter:Dacentec
Datacenter location: Lenoir, North Carolina
IP:  192.111.147.110
File: http://192.111.147.110/100MB.bin