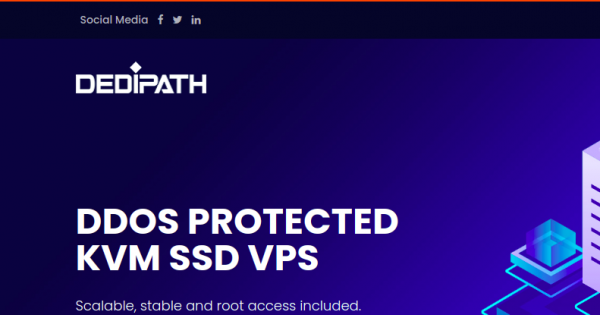 DediPath is excited to announce our Grand Opening in Dallas, They are offering 45% off OpenVZ, KVM and Hybrid Servers located in Dallas!
DediPath is a provider of infrastructure as a service (IaaS). At Dedipath we focus on offering great service and support at a highly competitive price.
SSD OpenVZ Sale
45% Off Recurring Using Coupon Code: dallas4521
Features:
SolusVM VPS Management Panel
OpenVZ Virtualization Technologies
DDoS Protection
TUN/TAP Support Enabled
FREE & Instant Setup
Hardware RAID-10 Protected Servers
Pure Enterprise SSD Drives
Reverse DNS Available (On Request)
3 Locations To Choose From: Los Angeles, CA (Asia Optimized), NYC Metro, Jacksonville, FL, and Las Vegas, NV.
512MB RAM SSD OpenVZ VPS
10GB SSD Disk Space
1 x CPU Cores
512MB RAM
1Gbps Unmetered
1 x IPv4
1Gbps DDoS Protection
Normally $20/Yr
Use Coupon Code: dallas4521
ONLY $11/Yr
1GB RAM SSD OpenVZ VPS
30GB SSD Disk Space
2 x CPU Cores
1GB RAM
1Gbps Unmetered
2 x IPv4
1Gbps DDoS Protection
Normally $3.50/mo
Use Coupon Code: dallas4521
ONLY $1.92/m
2GB RAM SSD OpenVZ VPS
60GB SSD Disk Space
2 x CPU Cores
2GB RAM
1Gbps Unmetered
2 x IPv4
1Gbps DDoS Protection
Normally $6.50/mo
Use Coupon Code: dallas4521
ONLY $3.57/m
3GB RAM SSD OpenVZ VPS
90GB SSD Disk Space
2 x CPU Cores
3GB RAM
1Gbps Unmetered
2 x IPv4
1Gbps DDoS Protection
Normally $9.50/mo
Use Coupon Code: dallas4521
ONLY $5.22/m
4GB RAM SSD OpenVZ VPS
120GB SSD Disk Space
3 x CPU Cores
4GB RAM
1Gbps Unmetered
2 x IPv4
1Gbps DDoS Protection
Normally $12.50/mo
Use Coupon Code: dallas4521
ONLY $6.87/m
Pure SSD KVM Sale
45% Off Recurring Using Coupon Code: dallas4521
Features:
SolusVM VPS Management Panel
KVM Virtualization Technologies
DDoS Protection
TUN/TAP Support Enabled
FREE & Instant Setup
Hardware RAID-10 Protected Servers
Pure Enterprise SSD Drives
Reverse DNS Available (On Request)
5 Locations To Choose From: Los Angeles, CA (Asia Optimized), NYC Metro, Jacksonville, FL, and Las Vegas, NV, Dallas,TX
1GB RAM KVM VPS
10GB SSD Disk Space
1 x CPU Cores
1GB RAM
1Gbps Unmetered Bandwidth
1 x IPv4
1Gbps DDoS Protection
Normally $6.50/mo
Use Coupon Code: dallas4521
ONLY $3.57/m
2GB RAM KVM VPS
20GB SSD Disk Space
2 x CPU Cores
2GB RAM
1Gbps Unmetered Bandwidth
2 x IPv4
1Gbps DDoS Protection
Normally $10.50/mo
Use Coupon Code: dallas4521
ONLY $5.77/m
Network Information
Los Angeles, CA
NYC Metro
Jacksonville, FL
Las Vegas, NV
Dallas, TX