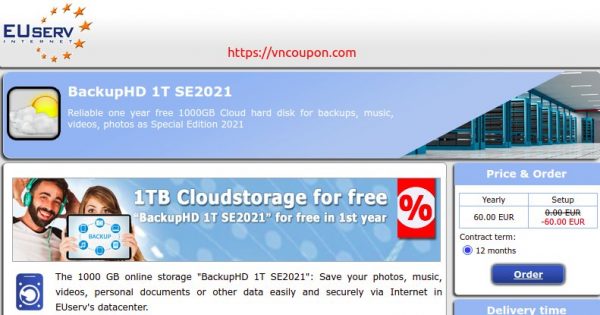 EUserv.com, a provider of various hosting services, is offering 1TB of free cloud storage in Jena, Germany.
=> [ Promo Link ]
The 1000 GB online storage "BackupHD 1T SE2021": Save your photos, music, videos, personal documents or other data easily and securely via Internet in EUserv's datacenter.
Use the front-end server and various transfer protocols such as encrypted Rsync, FTP, WebDAV, or a graphical frontend you can access anytime soon on your data.
Information about contract:
The free period of this offer is 1 year.
The offer renewal is automatically for following years, if not canceled 3 months before the end of the free period in customer panel.
After the one-year free period, regular fees will apply.
A maximum of one contract per customer is possible.
In this offer, the free use of documentation such as Wiki, FAQ and the EUserv Forum is available.
The offer is only valid for new contracts.
Offer is valid until 31.12.2021.