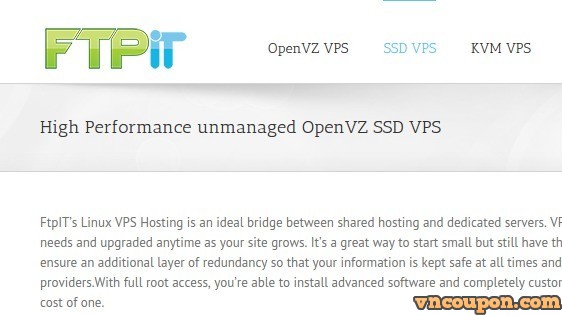 They have recently launched our Atlanta OpenVZ location. While it is steadily growing, They'd like to offer a discount to their active customers to get the box up and running to full capacity quickly.
Coupon Code which discounts you 70% for the first 3 months of service
Note: Only for Atlanta Location
Their OpenVZ is a container-based virtualization technology for Linux. OpenVZ creates secure, isolated containers on a single physical server to ensure better server utilization and that applications do not conflict. Each container performs and executes exactly like a stand-alone server; a container can be rebooted independently and have root access, users, IP addresses, memory, processes, files, applications, system libraries and configuration files.
SSD OpenVZ Plans
SSD1
2 CPU Core
512 MB RAM
10 GB SSD space
1 TB Bandwidth
1 IPv4
OpenVZ & SolusVM
Price: $2.99/month
SSD2
SSD3
SSD4
SSD5
Network Information
Contact them