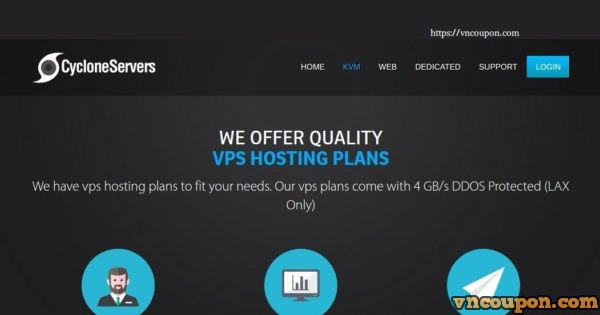 Cyclone Servers has been in business since 2013 and they are still going strong, They take their hosting business seriously and only want to offer their customers the best services possible to do this they have been recently upgrading their hardware and networking equipment ready to offer the best they can.
Brand new location Dallas TX With Dual Intel Xeon E5-2630L v2. and 10GBps Connection.
Promo Code
15% Off Recurring KVM VPS (exclude 512MB Plans)
40% Off (Recurring).
Save 10% on All-New Gaming Plans => Order Here
Save 25% Off, (Does not apply for 256 or 512 Yearly) (New and Existing Customers can get Double Storage or RAM, Please put in the order notes which one you want)
Save 25.00% Off (Monthly)
Save 40.00% Off (Yearly)
Save $1.50 Off (Monthly)(SSD Plans) Only VALID ON 1GB and 2GB Plans
Save $1.50 Off (Monthly)(HDD Plans)
KVM VPS Plans
15% Off (Recurring) Use Promo Code: WHT15x
Promo's only valid on-base server no upgrades. Not Valid on Dallas 512MB KVM Plan.
KVM VPS Order Links => Seattle, LA, North Carolina, Dallas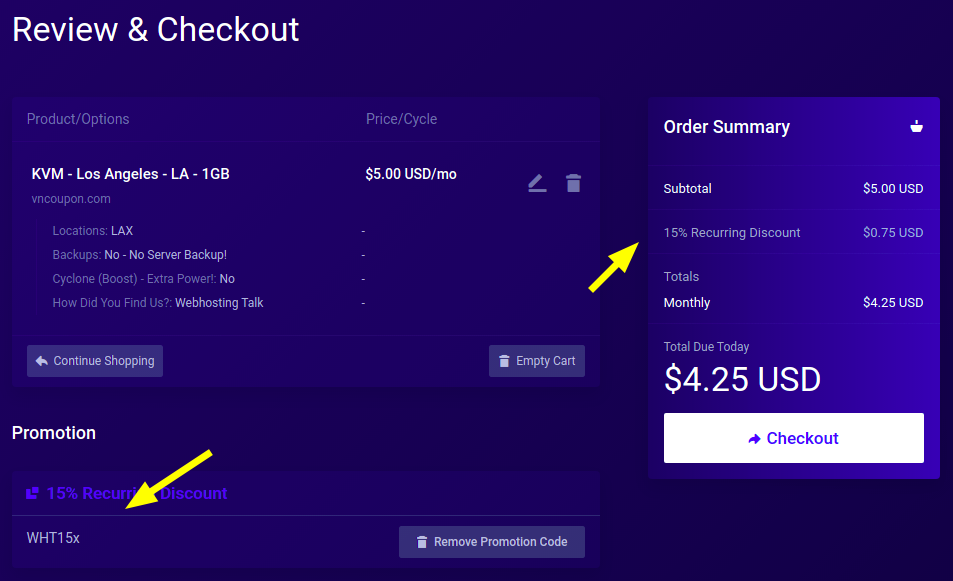 Special KVM VPS Plans
– Virtualizor Powered
– Native IPv6
– 7 day Money Back Guarantee
– Full root access
– DDoS Protection (Provided in LA only)
KVM – 256MB LET PLAN 
1vCPU Cores
5 GB Disk Storage
256 MB RAM
1TB Bandwidth
100 uplink
DDOS Protected (LA Only)
Los Angels or Seattle
Only $15.00/yr (

Out of stock

)
Where can you order? Click Here
4GB DEAL (HOT)
4 x VCores CPU
4 GB Ram
35 GB Storage (Raid-5)
2 TB on 1Gbit Port (Shared) Bandwidth
1 IPv4 & /64 IPv6 Subnet IP Addresses
KVM Virtualization Type
Virtualizor Control Panel
Seattle or LA (Limited)
Recurring
$5.50/month
Where can you order? Click Here
Payment Methods Accepted
Credit/Debit (Powered by Stripe and Paypal)
Cryptocurrency (Powered by Coinbase)
Network Information
Seattle WA:
Test IPv4: 172.83.157.100
North Carolina:
Test iPv4: 23.92.219.77
Los Angeles:
Test iPv4: 69.12.86.184
Service Features
Instant Activation (Subject to fraud checks)
One-click OS Install with ready templates – CentOS, Debian, Suse, Ubuntu and now Windows
Custom ISO – Use our available Windows & FreeBSD or bring your own ISO.
One-click CP Install – Available on our VPS Panel, cPanel, Plesk, Webuzo, Webmin, VestaCP and more!.
Additional IPs – Max 2 IPs Per Server at $2 per IP.