Hostodo – NVMe KVM VPS from $20/year – 25% Off extra – Free Double Disk – High BW – Free DA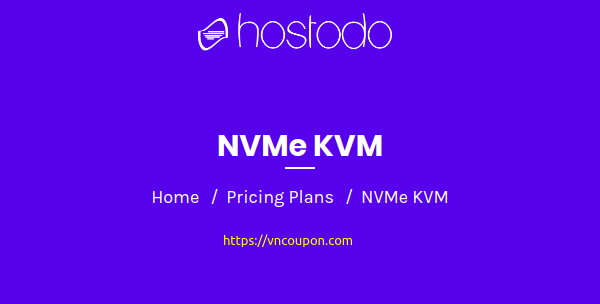 Hostodo – They are proud to announce new line of NVMe KVM virtual private servers, available in Las Vegas, NV & Miami, FL. They own all of their equipment and colocate with FiberHub in Las Vegas, NV.
They own their own IP ranges, all oftheir equipment, and colocate with FiberHub in Las Vegas, NV and Quadranet in Miami, FL. Their latest offering is NVMe based KVM VPSs in Las Vegas and Miami. Open a ticket after purchase for free DirectAdmin.
NVMe KVM Plans
KVM VPS Features
Hardware Information:
– 2x Intel Xeon E5-2670 CPU
– 128GB RAM
– 2x 1.6TB Intel DC P3600 NVMe
– Hardware RAID1
– 1Gbps uplink
NVME-KVM-512
NVME-KVM-1024
NVME-KVM-2048
NVME-KVM-3072
NVM-LVKVM-4096
They accept Credit Card, PayPal, Cryptocurrencies (BTC, ETH, XRP, and more), AliPay, WeChat, and UnionPay
Legal adult content, private VPNs, private proxies are all allowed. Bulk mail is not allowed, BitCoin mining or similar is not allowed along with anything that is illegal in the United States.
Network Information
Las Vegas, NV Looking Glass:
http://lv.hostodo.com
Miami, FL Looking Glass:
http://mia.hostodo.com
VPS Benchmark
Yabs for NVME-KVM-2048

Fri 16 Oct 2020 04:45:20 PM EDT

Basic System Information:
———————————
Processor : QEMU Virtual CPU version 2.5+
CPU cores : 2 @ 2599.998 MHz
AES-NI : ❌ Disabled
VM-x/AMD-V : ❌ Disabled
RAM : 2.0Gi
Swap : 1.0Gi
Disk : 20G

fio Disk Speed Tests (Mixed R/W 50/50):
———————————
Block Size | 4k (IOPS) | 64k (IOPS)
—— | — —- | —- —-
Read | 186.48 MB/s (46.6k) | 545.55 MB/s (8.5k)
Write | 186.97 MB/s (46.7k) | 548.42 MB/s (8.5k)
Total | 373.45 MB/s (93.3k) | 1.09 GB/s (17.0k)
| |
Block Size | 512k (IOPS) | 1m (IOPS)
—— | — —- | —- —-
Read | 470.70 MB/s (919) | 472.54 MB/s (461)
Write | 495.71 MB/s (968) | 504.01 MB/s (492)
Total | 966.42 MB/s (1.8k) | 976.55 MB/s (953)

iperf3 Network Speed Tests (IPv4):
———————————
Provider | Location (Link) | Send Speed | Recv Speed
| | |
Clouvider | London, UK (10G) | 90.3 Mbits/sec | 26.6 Mbits/sec
Online.net | Paris, FR (10G) | 818 Mbits/sec | 210 Mbits/sec
WorldStream | The Netherlands (10G) | 839 Mbits/sec | 33.5 Mbits/sec
Wifx | Zurich, CH (10G) | 789 Mbits/sec | busy
Biznet | Jakarta, Indonesia (1G) | 714 Mbits/sec | 63.9 Mbits/sec
Clouvider | NYC, NY, US (10G) | 919 Mbits/sec | 401 Mbits/sec
Velocity Online | Tallahassee, FL, US (10G) | 838 Mbits/sec | 318 Mbits/sec
Clouvider | Los Angeles, CA, US (10G) | 937 Mbits/sec | 923 Mbits/sec
Iveloz Telecom | Sao Paulo, BR (2G) | busy | busy

Geekbench 5 Benchmark Test:
———————————
Test | Value
|
Single Core | 536
Multi Core | 1069
Full Test | https://browser.geekbench.com/v5/cpu/4206719