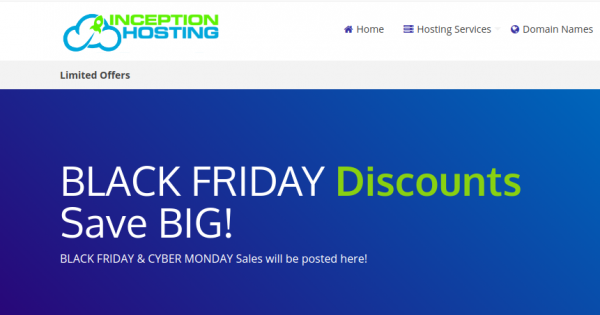 Inception Hosting has a limited sale run on over 30 products right now for Black Friday 2019!
Discounts will last until stock is gone or midnight on the 2nd, whichever comes first, these deals will NOT be repeated later in the year or in 2020.
If you have been waiting for that special deal now is the time to buy with up to 50% off on many lines, up to 1600GB Storage servers, KVM SSD deals with full daily backups and DDOS protection and FREE Direct Admin licenses, Docker ready OpenVZ 7 containers starting at €12.00 p/year! or the 3 x 256MB NAT VPS bundle for €6.99 p/year!
Black Friday 2019 Promotions
UK KVM SSD
USA SSD CACHED KVM
NETHERLANDS OpenVZ 7
UK OpenVZ 7
UK STORAGE
USA STORAGE
UK OpenVZ 7 SSD
UK 1GB SSD KVM
USA OpenVZ 7
As always with limited run extreme discounts on Black Friday they are just that, limited! so to preempt the most common question it is not possible to simply swap out pricing although you are obviously welcome to purchase these at the favorable pricing while it lasts and then self migrate (IP swaps not available)