Zoolz – Get 1TB Cloud Storage for a LIFETIME (96% OFF)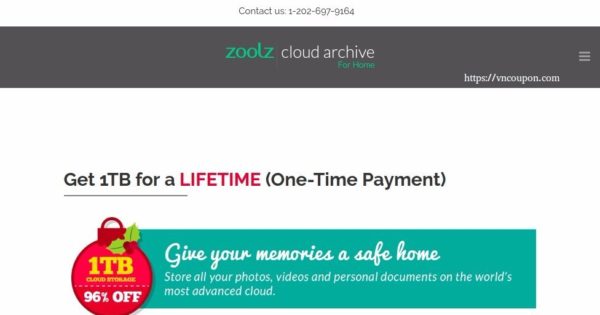 With Zoolz, you can backup hard drives, external and network drives. You never have to worry about your data being deleted from the cloud. Your digital memories are safe with us. When we say lifetime, that's exactly what we mean. Pay once and backup all your files for life!
Zoolz is a market leading provider of cloud based storage. Their mission is to provide an affordable and secure cloud solution for businesses and individuals.
500 GB Cold Storage & 500 GB Vault Storage
2 users
Unlimited External/NAS drives
Lifetime storage
Supports Windows and Mac
Highly secure backup (based on Amazon AWS)
Innovative user experience
World's first Cold Storage technology
Stay closer to your data. Instantly view your files by downloading our free app for Android, iPhone and iPad.
Zoolz Special Offers
+ Zoolz Home Cloud 500 GB With 500 GB Instant Vault ( 1TB Storage ) – LIFETIME ( 96% Off Special)
Link 1: Only $29.99 One-Time Payment: Order Here
Link 2: Only $39.00 One-Time Payment: Order Here