iKoula offer 50% Off Synology NAS Diskstation Up To 8TB Disk Storage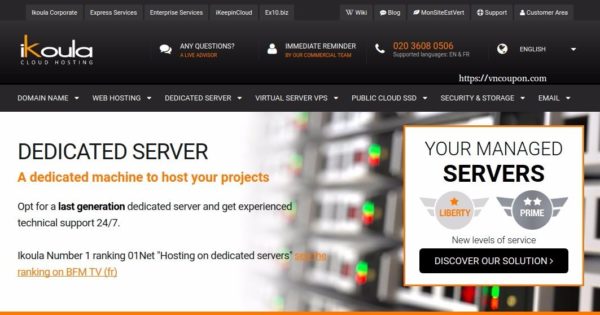 iKoula use Synology hardware and offer different capacities. Synology DS216j is raid capable.  Ikoula Number 1 ranking 01Net "Hosting on dedicated servers".
Ikoula is the owner of its DataCenter 1 750 m² in Reims that hosts more than 4,000 servers. Pioneer of green hosting, with over 4,000 enterprise customers and 25% annual growth, Ikoula places innovation, simplicity and customer satisfaction at the heart of its solutions. They are also present in other two DataCenters in France, Telecity Courbevoie (92) and TeleHouse 2 in Paris. The DataCenter in Reims outclasses the Parisian rooms.
Technical Specs DS115J
Processor Marvell Armada 370
256 MB Ram
2 ou 4 TB Sata (one disk).
1 ipv4
100 Mbps Full Duplex
Datacenter : iKoula Reims
OS: DSM 6.0
Technical Specs DS216J
Processor Marvell Armada 385
512 MB Ram
2×2 ou 2×4 TB Sata (raid1)
1 ipv4
100 Mbps Full Duplex
Datacenter : iKoula Reims
OS: DSM 6.0

Fonctionnalities
+ Backup, synchronise and share files.
+ Compatibility with Cloud services.
+ VPN/Mail/Web.
+ For more informations you can go on Synology website:
+ No setup fee
+ No comitment
https://www.synology.com/englobal/products/DS115j
https://www.synology.com/englobal/products/DS216j
Payment Information
+ Paypal
+ Credit cards
+ Bank tranfer
+ American Express