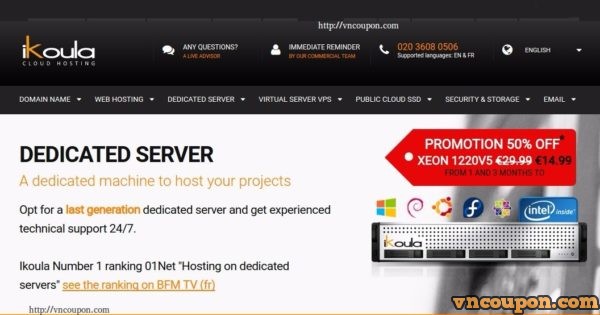 About iKoula
Ikoula Net SAS provides web and cloud computing hosting services. its services include express hosting that provides packaged and flexible hosting solutions from domain names to dedicated physical and virtual servers available from an online store, enterprise services that provides tailor made hosting solutions provided with value added managed services, and EX10, a platform of Cloud collaborative solutions, designed for retailers and IT integrators. The company was founded in 1998 and is based in Boulogne-Billancourt, France.
iKoula Datacenter
Ikoula is the owner of its DataCenter 1 750 m² in Reims that hosts more than 4,000 servers. Pioneer of green hosting, with over 4,000 enterprise customers and 25% annual growth, Ikoula places innovation, simplicity and customer satisfaction at the heart of its solutions. We are also present in other two DataCenters in France, Telecity Courbevoie and TeleHouse in Paris. Read more
iKoula Promo
=> View All Promo Here: https://express.ikoula.com/en/dedicated-server#promotion
Synology Servers
– Bandwidth 100Mbit/s Full duplex
– Unlimited traffic
– Monitoring Station
– Backup
– Technical assistance 24/7 in France

Discounted Dedicated servers
– Bandwidth 100Mbit/s Full duplex
– Non-binding offer, final price
– Technical assistance 24/7 in France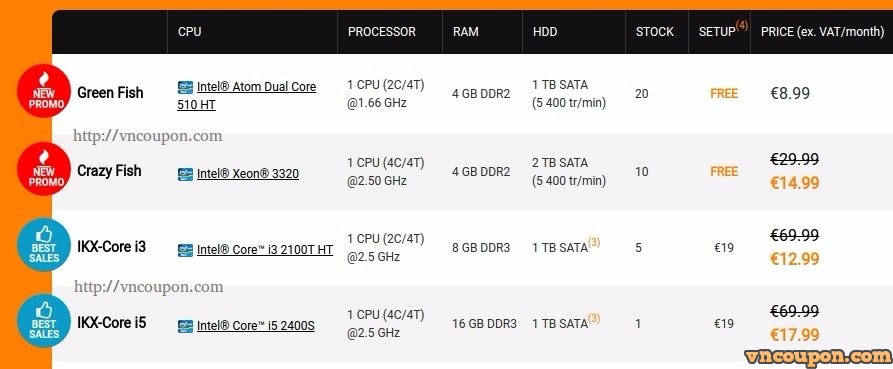 Note: 
*Promotion 50 % OFF on the first subscription with 1 or 3 months of commitment. Validity of the offer until the May 31st 2017 11.59pm. The offer is not combinable with other promotions.
(1) Discount on renting of your dedicated server according to the commitment period (excluding Plesk, OS, DB and other options): 1 year subscription = -5% / 2 years = -10% / 3 years = -15%.
(2) Possibility to increase the level of RAM.
(3) Possibility to increase the size of the disk (s) or to have a SSD/SAS RAID HARD alternative.
(4) Setup fee OFFERED in the case of a non-cumulative annual commitment with ongoing promotions. Prices valid for the purchase and for the renewal of benefits.