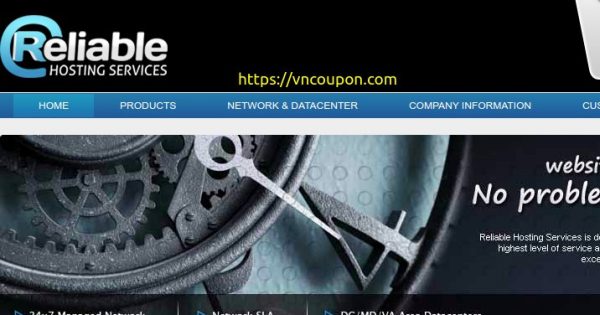 Since 2008, Reliable Hosting Services have been offering dedicated servers, co-location, and VPS services. They own and operate our facility and all of our equipment, they are not re-sellers of other providers.
About Reliable Hosting Services
Reliable Hosting Services was formed in June of 2008. We are a small business currently operating in Berkeley Springs, West Virginia. Since our inception we have provided anything from simple web hosting, VPS, dedicated servers, to co-location services. We started out with a single rack in Baltimore, Maryland out of a Windstream owned and operated facility. In September of 2013 we purchased our own building and began construction which took until July of 2014 to complete.

We feel that as a small business, we can provide customized products, support and better overall service to you and your business or customers. We have greater knowledge of your business and will treat you more as a person than a number, which is not common practice in this marketplace.
Special Dedicated Server Offers
DUAL INTEL XEON E5-2690v1 – [WV1-R02R08-S13]
CPU: Intel Dual Xeon E5-2690v1 (2.90 GHZ x 16)
MEMORY: 64GB ECC DDR3
HARD DRIVE: 1TB SSD
TRANSFER: 10TB on 1Gbps Port
$60 / Month
DUAL INTEL XEON E5-2680v2 – [WV1-R02R08-S09]
CPU: Intel Dual Xeon E5-2680v2 (2.80 GHZ x 20)
MEMORY: 64GB ECC DDR3
HARD DRIVE: 1TB SSD
TRANSFER: 10TB on 1Gbps Port
$60 / Month
DUAL INTEL XEON E5-2680v2 – [WV1-R02R08-S03]
CPU: Intel Dual Xeon E5-2680v2 (2.80 GHZ x 20)
MEMORY: 64GB ECC DDR3
HARD DRIVE: 1TB SSD
TRANSFER: 10TB on 1Gbps Port
$60 / Month
DUAL INTEL XEON E5-2660v1 – [WV1-R02R09-S04]
CPU: Intel Dual Xeon E5-2660v1 (2.2 GHZ x 16)
MEMORY: 64GB ECC DDR3
HARD DRIVE: 4x 600GB SATA
TRANSFER: 10TB on 1Gbps Port
$50 / Month
DUAL INTEL XEON E5-2660v1 – [WV1-R02R09-S03]
CPU: Intel Dual Xeon E5-2660v1 (2.2 GHZ x 16)
MEMORY: 64GB ECC DDR3
HARD DRIVE: 4x 600GB SATA
TRANSFER: 10TB on 1Gbps Port
$50 / Month
Payment Method
Network Information
Berkeley Springs, WV
Test IPv4: 199.15.252.242
Test IPv6: 2604:4100:1::1