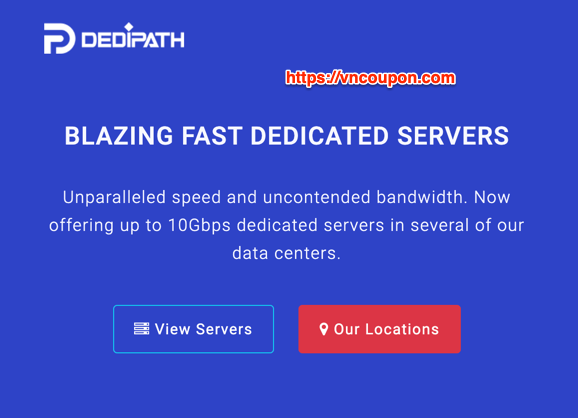 DediPath is a provider of infrastructure as a service (IaaS). With a collective 50+ years in IT, managed services, and colocation experience DediPath's founders are focused on creating a strong brand that is focused on providing the best service and support at a highly competitive price.
With Powerful Control Panel You Can:
Reinstall Your Operating System
Reboot Your Server
Check Your Bandwidth Usage
DediPath is having a huge winter sale!
Winter Sale Dedicated Server Specials
=> [ Promo Link ]
Storage Special – Intel Dual E5-2620/2630L
32GB RAM
2 X 2TB HDD
1Gbps Port Unmetered
20Gbps DDoS protection
/29 IPv4
Location: Los Angeles or NYC
Sale Price $65/month Limited Stock at this price
Order Now in Los Angeles/NYC
Storage Special – Intel Dual E5-2620/2630L
32GB RAM
4 X 2TB HDD
1Gbps Port Unmetered
20Gbps DDoS protection
/29 IPv4
Location: Los Angeles or NYC
Sale Price $75/month Limited Stock at this price
Order Now in Los Angeles/NYC
Storage Special – Intel Xeon E3-1270
16GB RAM
2 x 2TB HDD
1Gbps Port Unmetered
20Gbps DDoS protection
/29 IPv4
Location: Los Angeles or NYC
Sale Price $55/month Limited Stock at this price
Order Now in Los Angeles/NYC
Storage Special – Intel Xeon E3-1270
16GB RAM
4 x 2TB HDD
1Gbps Port Unmetered
20Gbps DDoS protection
/29 IPv4
Location: Los Angeles or NYC
Sale Price $65/month Limited Stock at this price
Order Now in Los Angeles/NYC
Intel Xeon E3-1240v3
32GB RAM
250GB SSD
1Gbps Port Unmetered
20Gbps DDoS protection
/29 IPv4
Location: Seattle
Sale Price $55/month Limited Stock at this price
Order Now in Seattle
Intel Xeon Dual E5-2620v2
32GB RAM
250GB SSD or 2TB HDD
1Gbps Port Unmetered
20Gbps DDoS protection
/29 IPv4
Location: NYC
Sale Price $55/month Limited Stock at this price
Order Now in NYC
Intel Xeon E3-1230v3
16GB RAM
2TB HDD or 250GB SSD
1Gbps Port Unmetered
20Gbps DDoS protection
/29 IPv4
Location: NYC
Sale Price $49/month Limited Stock at this price
Order Now in NYC
Intel Xeon E-2146G
32GB RAM
250 GB SSD
1Gbps Port Unmetered
20Gbps DDoS protection
/29 IPv4
Location: Dallas
Sale Price $65/month Limited Stock at this price
Order Now in Dallas
Network Information
Los Angeles Looking Glass: http://lg.lax.dedicontrol.com/
NYC Metro Looking Glass: http://lg.dc03.dedicontrol.com/
Jacksonville Looking Glass: http://lg.dc08.dedicontrol.com/
Las Vegas Looking Glass: http://lg.dc07.dedicontrol.com/
Dallas Looking Glass: http://lg.dal.dedicontrol.com/
Atlanta Looking Glass: http://lg.atl.dedicontrol.com/
Denver Looking Glass: http://lg.den.dedicontrol.com/
Seattle Looking Glass: http://lg.sef.dedicontrol.com/
Phoenix Looking Glass: http://lg.phx.dedicontrol.com/
San Jose Looking Glass: http://lg.sje.dedicontrol.com/