[Xmas 2019] HostDoc – Special KVM VPS from £1.99/month – NVMe SSD Storage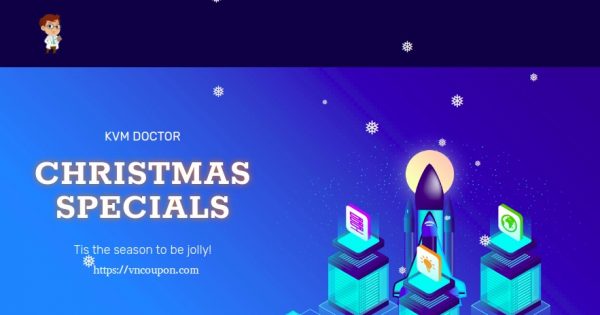 HostDoc has prepared a variety of VPS plans this christmas.
20% off the first month with promo code "crimbokvm" as well as free additional storage space for selected locations. Promo code only valid for plans number 3 and above.
LA3: Intel Xeon i9-9900K / 1vCores @ 3.6 GHz / 1 GB (DDR4) / 5 GB NVMe SSD / 20 GB HDD / 1 TB @ 10gbps / £2.99 => Order Now
LA4: AMD Ryzen 3900X / 1vCores @ 3.8 GHz / 1 GB (DDR4) / 15 GB NVMe SSD / 1 TB @ 10gbps / £3.49/m => Order Now
Get 20GB free storage in Kansas City with any plan
KC1: Intel Xeon E7-4780 / 1 vCore @ 2.4 GHz / 512 MB (DDR3) / 10 GB HDD + 20 GB HDD FREE / 500 GB @ 1gbps / £1.99/m => Order Now
KC4: Intel Xeon E7-4780 / 4vCores @ 2.4 GHz / 4 GB (DDR3) / 50 GB SSD + 20 GB SSD FREE / 5 TB @ 1gbps / £4.99 => Order Now
AZ2: Intel Xeon E5-2680v2 / 4 vCores @ 2.8 GHz / 2 GB (DDR4) / 20 GB SSD / 30 GB HDD / 2 TB @ 1gbps / £4.99 => Order Now
TX5: Intel Xeon Gold 6128 / 3vCores @ 3.6 GHz / 2 GB (DDR4) / 10 GB NVMe SSD / 35 GB HDD +30GB HDD FREE / 2 TB @ 10gbps / £5.49 => Order Now
DE4: Intel Core i7-6700K / 4vCores @ 4.0 GHz / 4 GB (DDR4) / 50 GB SSD / Unlimited @ 1gbps / £5.29/m => Order Now
Additional offers
LET BLOWOUT I: 2vCores / 1GB RAM / 15GB NVMe SSD / 1TB Bandwidth @ 10gbps / 1 IPv4 / /64 IPv6 / Nested Virtualisation / Dallas Texas / £2.08/m when paid annually => Order
LET BLOWOUT II: 2vCores / 1GB RAM / 40GB HDD / 1TB @ 500mbps / 1 IPv4 / /112 IPv6 / Nested Virtualisation / Roubaix France / £1.25/m when paid annually => Order
LET BLOWOUT III i9 / LET BLOWOUT III Ryzen 9: 2vCores / 1GB RAM / 15GB NVMe SSD / 1TB Bandwidth @ 10gbps / 1 IPv4 / /64 IPv6 / LA California / £2/m when paid annually => Order i9-9900K | Order Ryzen 3900X
LET BLOWOUT IV: 2vCores / 1GB RAM / 40GB HDD / 1TB Bandwidth @ 10gbps / 1 IPv4 / /64 IPv6 / LA California / £1.67/m when paid annually => Order
LET BLOWOUT V: 2vCores / 1GB RAM / 40GB HDD / 1TB @ 1gbps / 1 IPv4 / /64 IPv6 / Nested Virtualisation / Kansas City / £1.25/m when paid annually => Order
LET BLOWOUT VI: 2vCores / 1GB RAM / 15GB SSD / 1TB Bandwidth @ 1gbps / 1 IPv4 / /64 IPv6 / Kansas City / £1.67/m when paid annually => Order