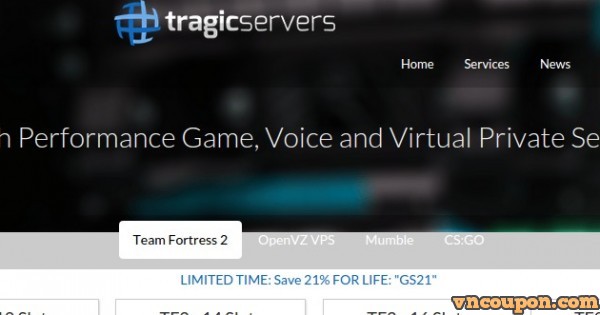 TragicServers – High Performance Game, Voice and Virtual Private Servers
99% Uptime Guarantee
Nobody wants to experience downtime on their paid services. That's why we guarantee 99% uptime on all our services.
Affordable Prices
We offer the most affordable prices compared to our competitors! Find someone cheaper? Contact us for a potential price match!
Weekly Backups
Nobody likes the headaches that come with data loss. That's why we do weekly backups! We also encourage customers to make backups of their own.
Group Pay
Need help to pay for your service? We have Group Pay available to ease that process. Receive the funds directly to your account!
Outstanding Support
Having trouble installing a plugin? Map? Our team provides as much support and assistance as possible to get you up and running.
Locations
We have multiple locations you can choose for your server! US: New York City, Chicago, Dallas, Los Angeles and EU: Frankfurt!
We use Intel Xeon E3 processors and hardware RAID-10 to provide top quality.
Start saving 50% on your next order today!
VPS Features:
SolusVM Control Panel
OpenVZ Virtualization
Upgradable RAM/HDD space
Additional IPv4 addresses available
Additional IPv6 addresses available
VSwap
Instant Setup
$6/Year, Normally $12
128MB Guaranteed RAM
128MB VSwap
1 CPU Cores
10GB HD space
500GB Bandwidth
1 IPv4
3 IPv6
1Gbps
$1.75/Month, Normally $3.50
256MB Guaranteed RAM
128MB VSwap
2 CPU Cores
30GB HD space
1000GB Bandwidth
1 IPv4
3 IPv6
1Gbps
$2.50/Month, Normally $5.00
512MB Guaranteed RAM
256MB VSwap
2 CPU Cores
50GB HD space
1500GB Bandwidth
1 IPv4
3 IPv6
1Gbps
$3.50/Month, Normally $7.00
1024MB Guaranteed RAM
512MB VSwap
4 CPU Cores
65GB HD space
2000GB Bandwidth
1 IPv4
3 IPv6
1Gbps
$7.00/Month, Normally $14.00
2048MB Guaranteed RAM
1024MB VSwap
4 CPU Cores
100GB HD space
3000GB Bandwidth
1 IPv4
3 IPv6
1Gbps
Priced Updated at Checkout
1024/2048MB plans receive a FREE IP, just open a ticket! LIMITED SUPPLY
Test IPs:
Dallas IP: 96.44.142.22
Los Angeles IP: 198.55.111.5
LA Asian Optimized IP: 204.152.218.25