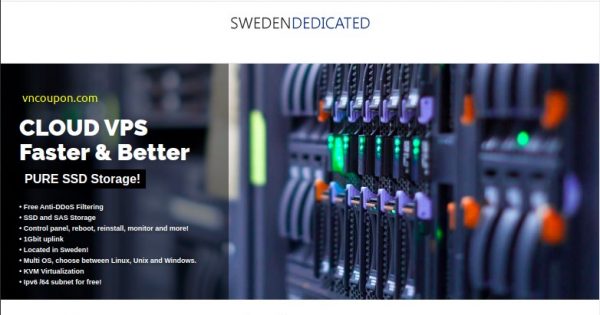 Sweden Dedicated have some attractive offers on VNCoupon.
About Sweden Dedicated
Sweden Dedicated has a long history in the hosting industry. It all started in 2006 when a young ambitious man founded a now defunct Dutch company and started to sell game servers and web-hosting, the company was successful and soon more services followed, in 2009 the company changed it's name to Sweden Dedicated and moved all it's operations to Stockholm, to be more precise to the Phonera data center, here the company increased it's total capacity by 200% and it's first employee was hired.
Special KVM VPS Offers
Host Node Specifications:
– 2x Intel(R) Xeon(R) CPU L5640 @ 2.27GHz
– RAM: 64GB
– Disks: 8x 900GB SAS in raid 10
– 1Gbit uplink
PROMO KVM 1GB
Limited special offer, only a few packages remaining
Core: 1
Memory: 1 GB
Disk space: 50 GB SAS storage
Monthly data transfer: 400 GB
Ipv4 address: 1
Ipv6: /64 subnet
Connection: 1000 Mbit
Virtualization KVM
Data center: Stockholm
€2.5/month or €24/year
They accept paypal, credit card, bitcoins and bank transfers.
Network Information
Solna Data Center, Stockholm, Sweden